Caninus Collars has announced their new line of branded dog collars featuring designs from legendary metal bands Motley Crue, Motorhead and Slayer. The latest designs add to their growing collection of branded pet accessories, which already include Judas Priest, Misfits and Sick Of It All.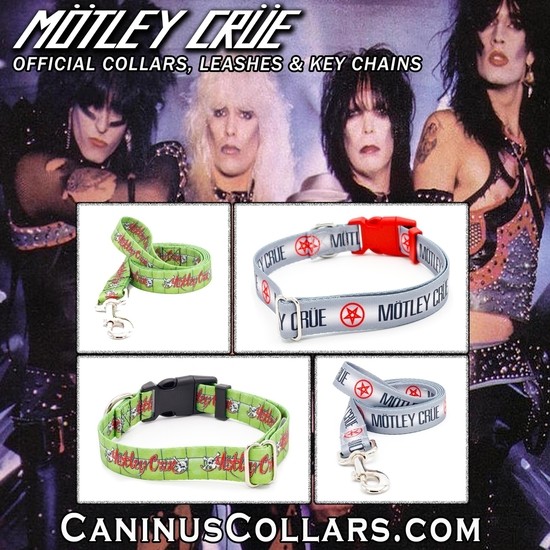 Caninus originally began in 2001 as the first ever dog-fronted grindcore band. Singers Budgie and Basil (RIP) were both pitbull mixes rescued from shelters in the New York City area. Caninus gained notoriety after releasing a CD and several split 7″s, and were featured in several magazines and mentioned on the Howard Stern show multiple times. Now the Caninus Collars brand has partnered with some of the most iconic names in Rock and Roll to let your puppies stroll in style.
The driving force behind Caninus is Rachel Rosen, AKA Belle Molotov in the original dog-fronted line-up. She has spent the last 25 years playing guitar and bass for multiple hardcore bands, the most well-known being Indecision, Most Precious Blood and, of course, Caninus. Rachel's other passion is animal rescue, where she has been working hard for the last 15 years, volunteering her time at shelters, fostering dogs, taking photos for Petfinder as well as adopting her own crew of rescue dogs over the years.