Benjamin Thomas urges ALL to "watch less news, listen to more music" and I couldn't agree more! This artist combines elements of: Pop, Jazz, Dance, R&B and Adult Contemporary and the overall sound is an audible treat. Benjamin Thomas injects a positive dose of uplifting spirit into each of his songs and in turn this not only lifts the music but also lifts your soul. In these trying times, why not take a break and allow Benjamin Thomas to spread these positive notes for ALL to hear. Time to listen, Time to dance and Time to give Benjamin Thomas a fighting chance!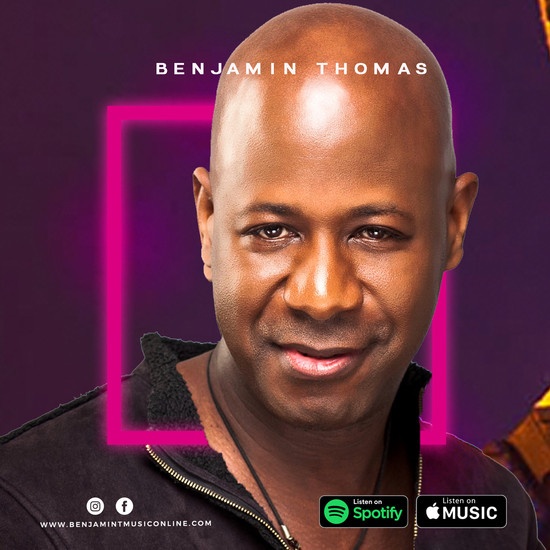 J Rae: As a former alto saxophone player myself, I immediately gravitated toward the soprano sax playing on the song/video "You're With Me":
I've always thought and said that the saxophone is one of the most influential instruments in music history. What is your personal take on the mighty sax and its roots?
Benjamin Thomas: The saxophone is such an ear-grabber and it doesn't let you go.
During the recording session, my music producer thought the saxophone could contribute to creating a jazzy song with a cozy feeling. It truly paid off because this is one of my most listened to songs. I truly enjoyed working with the saxophonist in the studio and while filming the video.
J Rae: I read that you grew up in the Gospel scene and was hoping you could tell the Skope readers how this part of your life helped shape you as a person and musician?
Benjamin Thomas: To me, I tend to love the mid to uptempo gospel songs because of the energy it brings, clean lyrics, and inspiring message. I definitely don't consider myself to be a gospel artist but I tend to use the framework to create a sound that fits my unique style.
Each song has a SPIRIT and I enjoy seeing the POWER of that CREATION!
J Rae: Your music combines elements of: Pop, Jazz, R&B, Dance and Adult Contemporary and wonder where this inspiration stems from to create your music and your sound?
Benjamin Thomas: My inspiration comes from just LIVING, LISTENING, and LEARNING from the great artists such as Whitney Houston, Michael Jackson, Aretha Franklin, Donna Summer, Prince, and etc.
Their natural abilities, dedication, discipline, and passion for music left us with a long list of great songs often used to guide the songwriting process.
My sound comes from being a simple man that LOVES a great beat with clean and memorable lyrics.
I truly believe we have commonalities with unique circumstances that makes us unique and that helps create your style.
J Rae: How does your first song, "Touch Someone" released in 2011, compare to your most recent single/video, "You're With Me"?
Benjamin Thomas: "Touch Someone" was originally recorded for a sibling (gospel singer) but a producer heard me sing and convinced me to record it. From my first single, "Touch Someone", until "You're With Me", I have collaborated with another songwriter, worked with a videographer/graphic designer, and other producers to help me create my sound and vision. My music journey is quite interesting at times.
J Rae: You're debut EP was released in 2015 and was hoping you could tell the Skope audience what this record meant to you and how was it received by listeners?
Benjamin Thomas: My debut EP that was released in 2015 is an effort to enter the music industry. It helped me learn the BUSINESS of MUSIC and the value of a COMPETENT TEAM in order to MAKE the DREAM happen. It taught me more about the importance of promoting, networking, and investing in oneself.
The listeners preferred some songs more than others and that is the nature of the business. I believe it was received well and my goal is to continue to promote, network, and create more music.
J Rae: If someone were to ask Who is Benjamin Thomas, what would your answer be?
Benjamin Thomas: Benjamin is private, comical, smart, articulator, direct, generous, helpful, and overall a good person. Loves his family and close friends!
J Rae: What are some fun facts about Benjamin Thomas and would even love to hear things you've never told anyone before? Feel free to be creative and/or "comical" here.
Benjamin Thomas: I love eating chicken so much that I should be growing feathers ….LOL!
Tell me a FUNNY joke because I love to LAUGH.
I like to see PEOPLE singing while driving because music is so POWERFUL!
I love McD's Big Mac with no cheese please.
I tend to DANCE when I hear one of my favorite dance songs
You might get A COLD …if you negatively talk about Whitney Houston
J Rae: Who are some of your favorite artists and influential, historical figures?
Benjamin Thomas: My favorite artists are: Whitney Houston, Michael Jackson, Prince, Donna Summer, Tina Turner, Boy George, to name a few.
The historical figures that I admire were selfless, big goal-setters, extremely courageous, visionaries, and they achieved greatness such as: Dr. Martin Luther King, Jr., Harriet Tubman, George Washington Carver, Madame CJ Walker, Frederick Douglas, Malcolm X, Jackie Robinson, and the list can go on and on and on!
J Rae: Any exciting plans for the summer and what are you currently working on and promoting?
Benjamin Thomas: Due to COVID-19, we (family & I) most likely have to reschedule our summer trip to The Big Apple to see a Broadway show and to enjoy the sites.
I am currently working on writing new songs, releasing a remix, and a creative way to promote "State of Mind" or "Living in the Moment." Please visit my music and merchandise page that is available at:
http://www.benjamintmusiconline.com/
J Rae: It's been an ongoing theme to end on a positive note with my interviews, so without further adieu! This is a two-parter: Your music does come across as upbeat and want to ask what's the secret to remain positive at all times? When facing extreme adversity, how can one stick with an optimistic mindset?
Benjamin Thomas: My secret of remaining positive especially during this very scary time, I watch less news, listen to more music/original Netflix series', take breaks, dance often, get some fresh air, breathe, check- on loved ones, and etc.
I recommend doing things that brings you peace of mind and joy. I enjoy watching reality and game shows, having a drink, seeing a movie, spending quality time with family/friends, singing in the shower, and dining out.
By Jimmy Rae (https://twitter.com/2JRae)