Brei Carter opens her delightful three-song EP with "Country Choir," which is a song response to those that might think folks are now tired of hearing backwoods songs. Put to a slightly funky groove, Carter uses its lyric to celebrate all that's good about country life. Those in the country will always feel and express country pride. Its title comes from the phrase, 'You're preaching to the choir.' Or, in other words, you're telling us what we already know. You don't need to tell country people they love their unique way of life; they already know that. The track even ends with a choir-like backing vocal section.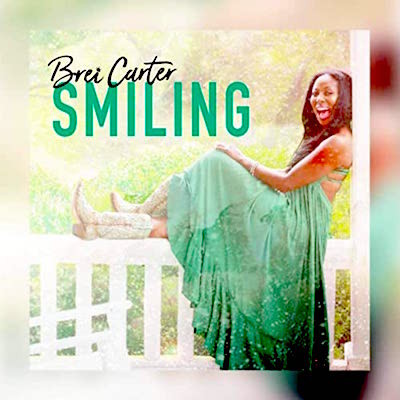 What separates Carter from many other country performers is the fact that she's black. She was raised listening to her father singing Charley Pride songs. Pride was the first black country superstar, and also one of the all-time great country singers. She was raised in Monroe, Louisiana, and obviously learned all the right lessons while listening to her father.
STREAMING: https://open.spotify.com/artist/1ODtqEHcWPmq8LlAOWAu7i
Carter also sang in her church choir, and you can hear a touch of soul – especially on this project's title track – in these songs. Her church-raising shows up again in the spiritually tinged "Yours." It can be sung to a lover, but also works as a song of praise to God – if the listener wants to hear it that way.
The collection's title track tells of how Brei Carter tries, as best she can, to smile – even through the pain. Yes, that's always easier said than done. Nevertheless, nobody wants to be around gloomy people. Its verses talk about how there is always hope. There are rainbows after rainstorms. She can either decide to whine and complain about all the bad stuff, or she can focus on what's truly good. Carter chooses to set her mind on the positive.
It's difficult to find obvious artist comparisons to Carter. There just haven't been any black female country superstars. Darius Rucker (of Hootie & the Blowfish) is black, and one of country music's biggest stars, but one fails when attempting to find a black female star with Rucker's popularity. The time is right for someone like Carter to become a star.
Musically, Smiling is pop-accented country music. It may not be traditional through-and-through, but it certainly won't be confused with actual pop music. "Country Choir" includes a large dosage of Southern rock electric guitar powering it. The title track rolls to a handclap, foot stomping beat, accented by soulful electric guitar. It's a relatively sparse arrangement, especially when compared to "Country Choir." This one also includes steel guitar, which makes it the project's most country sounding song. "Yours" also includes steel guitar, which is always a welcome element on any country song.
https://www.instagram.com/breicarter
Each of the three songs on Smiling is different, which makes for variety, even during a brief introduction. Carter writes sincere, heartfelt songs and sings them with personality and true feeling. It's always exciting to hear a new voice and a unique artistic perspective, and with Smiling, Brei Carter gives us just that. Too much contemporary country music is stale and repetitive, which means this EP a truly wonderful new arrival.
-Dan MacIntosh