@skopemag APP – Apple iTunes –
https://itunes.apple.com/app/id1465224822?mt=8
@skopemag APP – Google / Android –
https://play.google.com/store/apps/details?id=hr.apps.n207414718
SahBabii Gets His Mr. Rogers On, Welcomes Us to His Neighborhood in "Double Dick" Video
Specializing in a heady, insular, but still hard-hitting blend of trap music, SahBabii is one of the most unique figures on the ATL scene. Returning to the scene with his signature style, SahBabii shares "Double Dick," a new party anthem for introverts. Swimming through an atmospheric instrumental with his gentle auto-tune, "Double Dick" finds SahBabii perfecting the art of low-key flexing. In his half-whispered triplet flow, SahBabii rattles off a series of boasts about his woman ("my b*tch is bad, Imma give her detention"), his twin glocks, and more. In the video, SahBabii channels Mr. Rogers in his cardigan and Fendi poncho, welcoming us into his trippy neighborhood, full of twerking strippers, stampeding rhinos, steam engines, and too-slow police officers. "Double Dick" is the first taste of Barnacles, SahBabii's upcoming project.
Run The Jewels share new single "Ooh LA LA (feat. Greg Nice & DJ Premier)"
Run The Jewels have just shared a new single "Ooh LA LA (feat. Greg Nice & DJ Premier)," as anticipation mounts for their hotly awaited new album RTJ4. Atop a syncopated piano melody, the duo mount a bombastic lyrical incursion via their trademarked tag team delivery and unparalleled wordplay. The song arrives on the heels of "Yankee and the Brave (ep. 4)," another new track from the forthcoming RTJ4 that the duo spontaneously shared after jumping on an Instagram Live with fans this past weekend.
RITA ORA RELEASES VIDEO FOR NEW SINGLE "HOW TO BE LONELY"
Today Rita Ora released the video for her latest single "How To Be Lonely." The video, which explores the emotional phases of dealing with a breakup was directed by award winning director Dave Meyers (Kendrick Lamar, Billie Eilish and Travis Scott).
KANDY FLIPS IT 'UPSIDE DOWN' – OUT NOW VIA THRIVE MUSIC AND UNIVERSAL!
After breaking into the Top 10 of the US Billboard Dance Radio Singles chart with 'Let Me Down' and the success of the vogue-inducing 'Supermodel' alongside NERVO, KANDY is back on top solo form with 'Upside Down'.
New > Drake Collaborator Giveon Releases Debut EP > 'Take Time' > Out Today, listen here
The project boasts a pair of critically acclaimed singles. The lead-off "LIKE I WANT YOU" has already clocked 2.3 million Spotify streams. DJ Booth claimed, "More than just deep, however, GIVEON's voice is uniquely emotive. On songs like his recent breakout, 'LIKE I WANT YOU,' it positively cackles atop the stripped-back production." Okayplayer praised his "unique voice and lush sound," and Genius profiled him in detail. The video surpassed 1.7 million views and catapulted to #6 on VEVO's Top 20 New Artist Videos in the U.S. in addition to reaching regular rotation on Revolt and MTV Spankin New on Pluto TV.
Slayter and Yungeen Ace Connect in Dyckman for Rap Ballad "Hood Famous"
With an uncanny gift for staying relatable even as he lives his life of luxury, New York rapper Slayter is making waves with his starkly honest rhymes. Celebrating his VIP status in his uptown Dyckman neighborhood, Slayter shares "Hood Famous," his street-savvy new single. Rhyming atop reverberating minor key guitars and bumping 808s, Slayter rasps a lilting melody about his legendary stature in the hood: "I ain't died yet, but I got murals painted." The song features an appearance from fellow Cinematic Music Group signee Yungeen Ace, whose soaring vocals provide a brilliant counterpoint to Slayter's low intonations. In the video, Slayter takes us in a tour around Dyckman, drawing a crowd to the main street (a crowd that includes Luh Kel, another CMG riser) and showing a side of Manhattan that most people don't usually see. "Hood Famous" is the latest single from World Got Me F*cked Up Vol. 1, Slayter's upcoming mixtape, due next month via Cinematic Music Group.
GRAMMY NOMINATED SINGER/SONGWRITER JESSIE REYEZ RELEASES DEBUT ALBUM!
"Her music, though it's categorized as R&B, pulls together the impulses of folky singer-songwriters and syllable-spitting rappers as well as pop melody and hip-hop impact." – New York Times
"On her debut album, Toronto's R&B star-in-waiting Jessie Reyez makes herself unforgettable pretty much from the word go" – The Guardian
"On the single "Ankles" from the new album, Reyez boasts that no rival can measure up to her ankles. She's right." – Associated Press
SHVPES Share Video for New Song "Lion's Den" — WATCH
"I think a lot of us can find ourselves in toxic environments that we eventually learn to call home," says singer Griffin Dickinson. "It's easy to get comfy in a bad place yet simultaneously very difficult to make the choice to leave those bad places when the threat of the unknown is so daunting. This song is about taking your life into your own hands, knowing your worth, and making those life-changing decisions that are terrifying yet liberating in equal measure."
Dana Gavanski drops new LP "Yesterday Is Gone" today!
In the midst of the world's lockdown we are all forced to refocus after our daily lives have in many ways been put on hold. Many artists have had to change their plans around their album releases, from the buzz of touring, to now having to stay at home in isolation. Thankfully we live in a digital age where we are able to stay connected and continue to share the beautiful music that these artists work tirelessly to create for our enjoyment.
BOW! MOVIE! WATCH FIVIO FOREIGN GO VIRAL IN THE LONG AWAITED MUSIC VIDEO FOR "WETTY"
Brooklyn born rising star Fivio Foreign has released his long awaited single 'Wetty" off his upcoming EP via Columbia Records. The song was produced by frequent collaborator AXL Beats – watch the suspenseful music video directed by JLShotThat –
TANK RELEASES NEW EP "WHILE YOU WAIT" TODAY!
The world is currently enjoying at-home concerts, IG parties and much more. The R&B General TANK locked himself in his home studio and has delivered a six-song feel-good EP for R&B lovers. Tank gives us While You Wait via R&B MONEY to further his commitment to keeping the genre alive and thriving. The piano-based EP is written, produced, and performed by Tank. This intimate body of work brings the crooner closer to his fans, who've been waiting for his special blend music.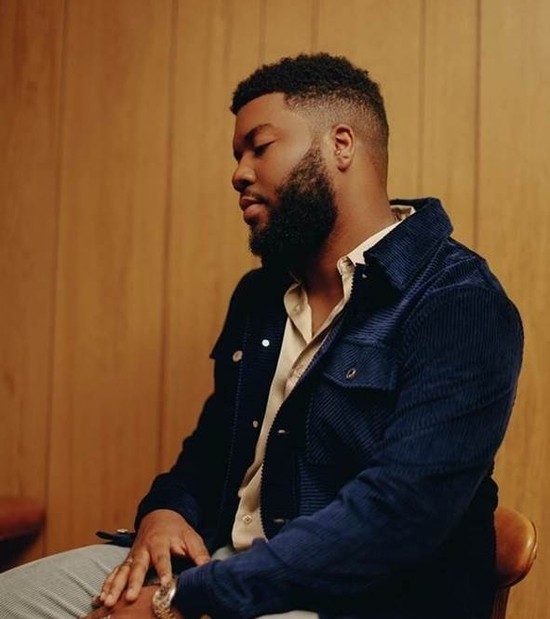 KHALID DROPS THE MUSIC VIDEO FOR "KNOW YOUR WORTH"
Multi-platinum global superstar Khalid drops the music video for "Know Your Worth." The video premiered on MTVU, MTV Live and MTV Biggest Pop.
FETTY WAP DROPS MUSIC VIDEO FOR "FRESH N CLEAN"  
Today, multi-platinum recording artist Fetty Wap releases the visual for his single "Fresh N Clean" off of his highly-anticipated album King Zoo, which is set to drop later this year. The visual for "Fresh N Clean" is just as upbeat as the song itself, telling the story of an artist on the come-up. The video follows Fetty from his start as an aspiring artist, to his platinum records, a mansion and a fresh wardrobe.
THE GRAHAMS Release the Cinematic Neon KIDS LIKE US – OUT TODAY!
The Grahams worked with Producer-legend Richard Swift (former member of The Shins who worked with Damien Jurado, Nathaniel Rateliff, Lucius, Lonnie Holley, The Mynabirds, Cayucas, Guster, and many more) and Co-Producer Dan Molad (Lucius, Elizabeth & the Catapult, The Wild Reeds), who later took over the project. The two enabled The Grahams to channel all that chaotic stimulus into something big, lush, ambitious, and profoundly satisfying. Kids Like Us was Swift's last project before his death in 2018, and the duo was honored to have the chance to work with him. "Richard was like magic," raved Alyssa. "He was like nobody we'd ever met before. You instantly wanted to be near him and be part of his world and suck in the mysterious energy and love he put out."
The Lowest Pair Share "Wild Animals" From 'The Perfect Plan' LP Produced by Mike Mogis of Bright Eyes
"'Wild Animals' is about following curiosity and intrigue into the mysterious places that they can take you, being both frightened and excited by a wilder side, internally or externally, and not wanting to return to normalcy after experiencing the ecstatic, all the while trying to hold steady."
Ciaran Lavery announces long-awaited fourth album 'Plz Stay, bb' / shares new single and video 'Count To Ten'
Today (March 27th 2020) Northern Ireland Music Prize winner Ciaran Lavery announces the release of his fourth album, 'Plz Stay, bb', to be released on June 19th. Lavery is also today sharing a new single and video, 'Count To Ten' –
The Lounge Society Share New Track "Generation Game"
While some bands make music that pats you on the back, The Lounge Society make music that kicks you in the teeth. Hailing from Hebden Bridge, West Yorkshire, they are the next to emerge from the contagious 'Calder Sound', alongside Working Men's Club, The Orielles and WH Lung. An unruly bunch of talented multi-instrumentalists, The Lounge Society have pioneered a fresh approach to an eclectic range of influences spanning from The Fall and Talking Heads to The Velvet Underground and Fat White Family.
Kim Richey's 'A Long Way Back: The Songs of Glimmer' Out Today
Featuring stripped-down reinterpretations of her critically lauded 1999 album, the 14-track set was recorded in Nashville and produced by guitarist and two-time Grammy-nominated producer Doug Lancio, who played most of the instruments. Other musicians include Nielsen Hubbard, Dan Mitchell and Aaron Smith.
Dive Index shares "Window to Window" (ft Natalie Walker)
Today, Dive Index has announced a new LP titled Waving At Airplanes & is premiering the lyric video for "Window to Window" ft. Natalie Walker via Atwood Magazine. Check out the premiere here. Atwood Magazine described the single as "An immersive, transformative listening experience, the intimate "Window to Window" ft. Natalie Walker offers an arresting minimalist journey through transience and movement: Life's lost moments and missed opportunities." Dive Index's Waving At Airplanes is due out on May 29th, 2020 via Neutral Music.
Premiere: The Minimalist Intimacy of Dive Index's Arresting "Window to Window" ft. Natalie Walker
OUT NOW: Jasmine Infiniti Presents Debut Album, BXTCH SLÄP
Following her breakout EP, SiS, Jasmine Infiniti returns with thirteen disruptive club tracks fit for the The Infernal Ballroom. On her meticulously-crafted debut LP, BXTCH SLÄP, the head of New World Dysorder conjures occult rave incantations with sub-tectonic bass and spectral, seductive harmonies. Audaciously championing R&B, vogue and hip-hop sounds, Jasmine Infiniti's latest collection of techno-hybrid dance tunes from is bound to be the new soundtrack of NYC's queer underground nightlife.
Balcony Talk Premieres Music Video For "Iamlostwithoutyou"
"This music video cuts deep to one who sees the symbolic meaning of things. As enjoyable as this music video is to watch, there is something very strange beneath what's really happening. The mannequins represent emptiness which is exactly what Ant is trying to explain with this song. If you do not pursue what you're passionate about, you will have emptiness living within you."
NIGHT FLIGHT announce new single 'Rye' and release new EP 'White Noise'
London based indie-folk band Night Flight today (March 27, 2020) release their new EP 'White Noise' via CRC Records. The follow-up to their widely praised self-titled debut released in 2018, the songs on 'White Noise' individually explore the nuances in specific pockets of life; exploring disillusionment, isolation and self-reflection in the midst of personal recovery.
RISING R&B SINGER/SONGWRITER RILEYY LANEZ DEBUTS NEW SONG "LEFT 4 ME"
In speaking about the track, Rileyy says: "'Left 4 Me' is about a time I was so busy dwelling on the person I was with and making their mind up instead of focusing on me. Writing the song was a lesson in disguise – instead of dwelling on something I can't have, it taught me to focus on all the things I do have and that's myself, my career, happiness, freedom etc. The video shows that shift, I'm literally in the street dancing with my girls, releasing the hurt, being free, and moving on."
Josh Lambert Drops Alternative Rock Single "On and On"
Musician Josh Lambert has released his new track, "On and On," an alternative rock-influenced track that expresses the struggle of heartbreak and the hopefulness in recovery. Lambert combines his authentic lyrics and melancholic tone with an upbeat and catchy rhythm, making this track very engaging and relatable to the listener. The track is produced by Fantom with an easy and mellow beach town inspired guitar and steady upbeat bass and drum.
Grammy-Nominated Producer & Award-Winning Solo Artist GAWVI Unveils Mini-Documentary
In the 13-minute documentary, GAWVI dives into his process of discovering the true meaning of the word "heathen", the title of his forthcoming album set to drop on April 10. Delving into his childhood, the documentary showcases how he was never looked at as "normal" by others and how he grew to accept and embrace it. Now feeling confident in who he is, he takes fans along his journey of making music to please others to now, creating exactly what he feels is right, regardless of what everyone around him is telling him to do.
Exclusive: Check Out This Excellent Short Documentary About 'Heathen', GAWVI's Upcoming Album
Qveen Herby reveals Missy Elliot inspired single – 'Check'
"Check" – which features an irresistible interpolation of Missy Elliott's classic "I'm Really Hot" – was produced by Nick Noonan and Steve "Pompano Puff" Tirogene (Nicki Minaj, 03 Greedo, T.I.) and mixed by acclaimed DJ/producer Phinisey. The track heralds Qveen Herby's much anticipated new EP 8, due to arrive later this year via her own Checkbook Records label.
Zaac Pick – My New Single – 'Lighter Side Of Blue'
"Lighter Side Of Blue," taken from my upcoming sophomore album, Passages (out May 22nd), is ultimately a hopeful song that tells a bit of that story — of music offering a way out of mental strife.
Larkin Poe share new single 'Holy Ghost Fire'
GRAMMY® Award-nominated sister duo Larkin Poe have released new 'Holy Ghost Fire', the latest track from their new album, SELF MADE MAN. The track is available now at all DSPs and streaming services.
Joyner Lucas "ADHD" full album out today
2x GRAMMY® Award-nominated rapper Joyner Lucas has released his powerful new album, ADHD, today. The video for the project's latest single, "Will," an incredibly creative tribute to the rap and film star Will Smith, hit the #1 trending spot at YouTube earlier in the week.
THE KID LAROI HOPS ON BANKROL HAYDEN'S "COSTA RICA"
Bankrol Hayden is currently on the cover of Spotify's Clout Culture (565k followers). The track is featured on popular Spotify playlists such as Shisha Lounge (721k followers), Most Necessary (2.4M followers), Clout Culture (565k followers), and more. It's also featured on popular Apple Music playlists The Plug, The New Bay, Rap Life Videos and Gymflow. "Costa Rica" debuted on Spotify's US and Global viral charts last month, seeing placement on Germany Viral 50, UK Viral 50, Netherlands Viral 50 and more.
(0) – Progressive Black Metal Enigma Releases New Single And Video "Skarntyder"
Danish progressive black metal enigma (0) has just released their newest single "Skarntyder", fresh off their upcoming album, SkamHan, to be released on April 24 via Napalm Records. FJ's dark growls paired with a mysterious and exhilarating atmosphere round off the song in perfect harmony and pull the listener even farther into the somber void.
BEAR: Ghost Cult Premieres "Kuma" Lyric Video From Belgian Progressive Metal Unit
Ghost Cult is currently hosting the official premiere of "Kuma" from Belgian progressive metal/hardcore unit BEAR. The track comes off the band's Propaganda full-length, set to drop this May via Pelagic Records.
EXCLUSIVE VIDEO PREMIERE: Bear Shares New Lyric Video – "Kuma"
Chicago's TrenchMobb is the Hottest Rap Group on the West Side
Offering a complementary mix of styles and an electric group chemistry, TrenchMobb is the rap collective that has Chicago buzzing. Today, the mixed-ethnic crew from the city's West Side flex their melody might on "Invest," their new video single. A high-energy ode to incrementally increasing your bankroll, "Invest" benefits from infectious melodies from JR007, who provides the fast-talking hook, and TMB Spazz, whose auto-tuned flow adds color to his flex-heavy rhymes. In the video, the two rappers take brand new sports cars (a Lexus and a 'Vette, to be precise) to a chalet in the suburbs, where they enjoy themselves with a crew of models who love their music (their favorite song: "Very Far").
'Rise Up' – Single – My Silent Bravery
"I am releasing new music today in effort to combat the fear that we are facing and in hopes to transform it to faith! With the world being affected by the Corona Virus, it felt like this song needed to be released due to its positive and unifying message." – MSB
LA BAND LOVE GHOST RELEASES "CHASIN' MONEY AND BITCHES" SINGLE + VIDEO
Los Angeles band Love Ghost have released their new single "Chasin' Money and Bitches," produced by Danny Saber (The Rolling Stones, Alice Cooper, the Charlatans, Public Enemy etc.) with an accompanying video directed by Julian SK of SK Films (Alicia Keys. Soulja Boy, Rich the Kid and more).
Deleo – 'CAREFUL' Stellar Remix
"With this Remix by The Wooden Cross, Unfair and its watery atmosphere very travel in troubled waters is propelled under the mirror ball of a night dark with stars. It swirls and gets out of the thrill of whirling. We are no longer in our bubble, happy being sad, but we catch the bubble in its bubble and crack ! Toxins are released and we find human, body and stellar form." – S. Fesson – ©"Parlhot"
New Music This Week – Pearl Jam, Childish Gambino, the Weeknd, and More
New Releases for March 27, 2020 – Here are the AllMusic editors' picks for the most noteworthy releases this week. Looking for more? Visit our New Releases page.
@skopemag