While we are all stuck at home in isolation, Amy Thomson, 45, who in her career has managed Swedish House Mafia, Seal, DJ Snake and marketed for Kanye West decided to take to the internet and deliver a 400-page free book, "Artist Management & Marketing: A Beginners Guide." The book is available as a PDF download or a read on-screen app via Myobschool.com from March 26th.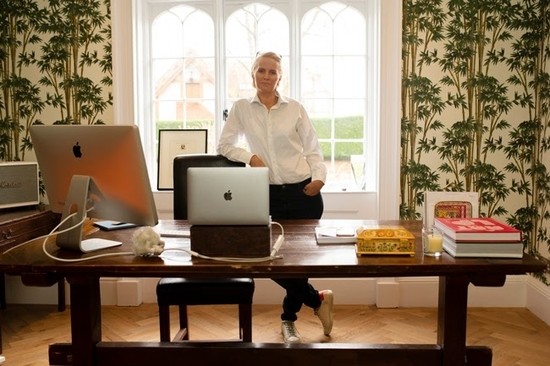 Having a run school in 2018 called Mind Your Own Business, which saw 152 kids from 17 countries descend on London, Thomson noticed a shortage of text which summarized the multiple topics a Manager needs to be aware of. 
In the 300 pages, she tackles planning, scheduling, the roles of Record Companies, Publishers and service agencies, royalties, releasing a record, international marketing, brand deals, merch deals through to mental health and book and film recommendations. Sample budgets and timelines and working examples from campaigns from her archive and one she has admired cover 400 pages of easy to understand pages designed to add some clarity to the largely unregulated work of Management. There is advice on fees, roles, contracts through to press training. 
Read and download the book – https://myobschool.com/
In early 2020, Thomson closed her management company after 17 successful years, confirming her new business will open before the end of the year which is based around the recovery, storage and cleaning up of catalog recovering revenue and arranging assets into a neat online hub tracking revenue and your rights in one very easy and Artist friendly hub. 
"Spotify changed everything. Songs you assumed now made you nothing because your CD was no longer pressed and sitting in Tower Records, are now retirement plans thanks to streaming. Few understand when you die, income can continue for up to 70 years and goes to your family and even fewer have their affairs in order to pass it on. The 35-year rule moving towards the potential cancellation of lifelong deals people signed, also comes into play here.  
This system is an easy way to support managers and Artists on their rights, the return of their catalog, royalty statement balances and the revenue they miss, in one summary report anyone can create with one click. It also helps you run your catalog reminding you of dates that matter, like audits, and rights reversions. It baffles me people make songs worth more than cars and houses and yet have not kept them in anywhere near the same level of order… Some think it's too late if they lost paperwork. They are wrong… My investors and I are in beta now, and the launch will be by the end of the summer. 
The tests we have done already have been miraculous. Not only for musicians but for anyone wanting to store their creations, ownership rights and revenue reports in one place. Even without many of the original files we cleaned and organized 2 large catalogs into one space that the Artist fully understood, in under 5 days. In one case found 4 million USD and 16 missing songs. It's time for royalties not to be confusing. It's time for those who own these songs, to actually OWN these songs. The current system does not work. Any new system offered is always way too complicated. Artists get tired just thinking about it. We have worked very hard on literally putting their power back in their hands. It's the biggest thing I have ever worked on. The side effect being it will help millions of dollars get back to those who are entitled to it, is the greatest part" — Amy Thomson