Teamwork's singles have garnered a great deal of advance praise. American Songwriter debuted "Crazy Boys," noting that "the flow, vibe, and emotion of the track seemed so nostalgic while also NorCal-free." The video for "My Broken Arm" debuted via Relix, who noted that Teamwork "captures the many flavors of the psychedelic country rockers." Live For Live Music premiered "Waiting On A Call" and called Teamwork "a genre-bending adventure highlighted by intertwining elements of hard rock, alt-country, psychedelia, folk, and everything in between."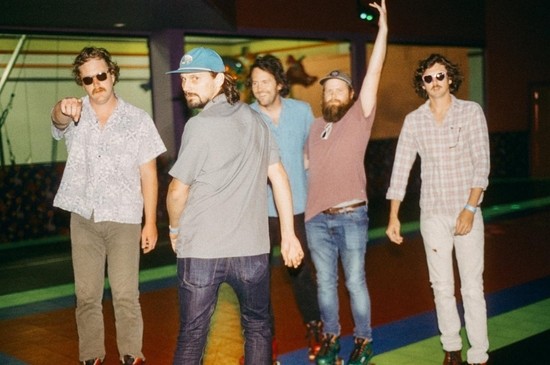 Recorded at several studios (Portico, Chase Park, Rialto Row, Dialback Sound), the LP is a snarling devil-may-care batch of 12 tunes. It encompasses a seamless blend of hard rock, psychedelic alt-country and folk stylings — something signature to the unique sound, tone and attitude of the Futurebirds.
DSP – https://awal.ffm.to/teamwork
"We recorded this album all over the place," says guitarist/singer Thomas Johnson. "In a lot of ways it kept us from bogging down, at times it was probably inefficient, but ultimately everyone of the songs captures the vibe(s) of the spaces and cities we occupied while we made it.
'I'm Killin You' really captures the vibe of the whole record for me. The main theme I had in my head while writing it though, was getting past the negative shit that can live on the periphery (or in the forefront) of life. Killing the bad side of human nature. Being self-aware, and being honest with yourself and trying to find peace with the person you've become or are becoming (or always were)."
FUTUREBIRDS LIVE 2020
1/15 – Bowery Ballroom (Album Release Show) – New York, NY
1/16 – World Cafe Live (Upstairs) – Philadelphia, PA
1/17 – The Southern – Charlottesville, VA
1/18 – River City Roll – Richmond, VA
1/24 – Lincoln Theatre – Raleigh, NC
1/25 – Bourgie Nights – Wilmington, NC
2/28 – The Blind Tiger – Greensboro, NC
2/29 – Radio Room Greenville – Greenville, SC
3/14 – Mesa Theater – Grand Junction, CO
3/26 – Bluebird Theater – Denver, CO
4/11 – Brooklyn Bowl Nashville – Nashville, TN
4/24-26 – Sweetwater 420 Fest – Atlanta, GA
9/5-6 – Teamwork Retreat – Pisgah Forest, NC @ Pilot Cove