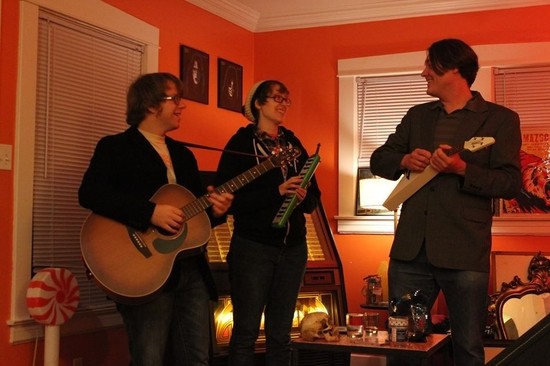 Matt Taylor formed Plastic Bubble in 2012 as a vehicle for the indie psych pop material he was recording at home with a rotating cast of friends in Louisville, KY. Midway through recording what became debut album Treble Treasure Chest (The Carpathian Cassette Label 2012/Jigsaw Records 2013), Plastic Bubble morphed into a proper band with a formalized lineup that included multi-instrumentalists/vocalists Jason Dudgeon and Elisa McCabe and drummer John Kleemeier. Sophomore release Big Day Parade (Hope For The Tape Deck/Jigsaw Records 2015) featured songwriting contributions from Dudgeon and McCabe as well as a multitude of instrumental and vocal overdubs from over two dozen friends. After a few years of regularly playing live in and around Louisville, Plastic Bubble loosened back into a home recording project when Taylor moved to nearby Lexington, KY and the other primary members became more involved in their own musical endeavors.
DSP – https://humanhoodrecordings.bandcamp.com/album/the-sitting-in-a-tree-ep-hhr78
Taylor assembled the album Any Big Adventure (Dord Music Group 2018) out of unfinished tracks from the first two albums, older pieces stretching back to late 1990s 4-track indulgences, and newer experiments with electronic computer programs. Plastic Bubble is now operating as a duo of Taylor and McCabe, and The Sitting In A Tree EP was just released by Humanhood Recordings in January 2020. The group is currently hard at play in the (home) studio, putting final touches on an LP planned for release later in the year.