Raised in Miami, Mexican-American actress, singer/songwriter, composer, and dancer Giselle Torres began her career at age 2 in her mom's theater company. After placing as one of the Top 6 finalists on The X-Factor when she was only ten years old, she began her musical career – and now, Giselle has amassed over 900 million views on her music and 2 million subscribers on YouTube. In 2013, she was chosen to sing to Pope Francis in Juarez, Mexico, in front of 250,000 people, and in 2017 she had seven sold-out concerts in Mexico City.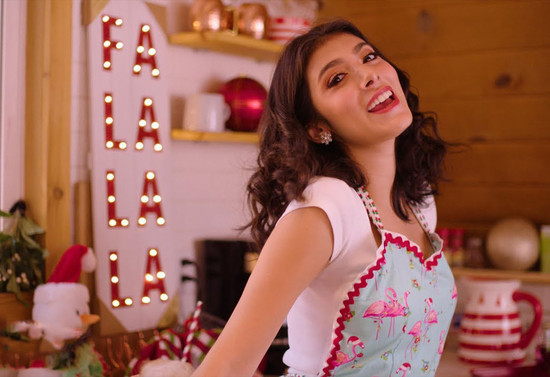 Wanting to pursue her dream of acting, Giselle moved to Los Angeles in 2018. And since then, she's made that dream happen: she can be seen on Comcast's exclusive TV sitcom Five @ 305, ABC's Speechless, Netflix's The Big Show Show, Amazon's Princess Cut 2 & 3, and several shorts and feature films. She was also chosen to play "Maria" in the regional production of West Side Story at the Thousand Oaks Civic Arts Plaza.
When you think of Christmas morning, what type of day do you picture? Probably a chilly morning, with snow on the ground outside while you sip hot cocoa inside. But no matter where we are or what the weather is, it's a time to celebrate. For her latest holiday song and video, "Navidad en la Playa," Giselle Torres heads to the beach (La Playa). After building a gingerbread house, she puts on her coat and gloves to go walk the dog… but when she falls unconscious in the snow, she wakes up on the beach! Never fear: it's time for a warm-weather holiday celebration instead.