Tierney Sutton is considered the "Susan Lucci" of Jazz Grammy Nominations; having been nominated nine times, with eight consecutive nominations for "Best Jazz Vocal Album." Sutton's Grammy Nominated project, "ScreenPlay" is a deep dive into songs from American film and has already been hailed "an aural Oscar." Hardly a stranger to the Grammy phenomenon, Tierney has been nominated for every record she's released in the last 15 years without a Grammy win. This year promises to be different; the stars are aligned, and a win is imminent!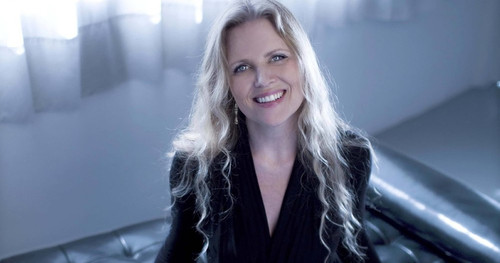 "Sutton is a serious jazz artist who takes the whole enterprise to another level." ⁠— New York Times
In celebration of "ScreenPlay" and Sutton's 9th Grammy nomination, The Tierney Sutton Band will be performing at the famous Catalina Bar and Grill in Hollywood, CA on January 3rd and 4th, 2020.
How does it feel to be a 9 time Grammy Nominee?
TS: Well… I'm a little Milwaukee girl and the first time I was nominated I just about lost my mind! I couldn't believe it! And honestly, 9 times in…I still feel the same.
What do you attribute your staying power in this crazy industry?
TS: I think that I've surrounded myself with phenomenal musicians and of course I've had some wonderful champions like Clint Eastwood.
What inspires you?
TS: The musicians in my band first and foremost and honestly, the broader jazz and music community is a great source of inspiration. I try to "fill my cup" with as much quality live music as I can. I'm also a Baha'i and the Baha'i teachings of the oneness of mankind as well as prayer and meditation are a profound source of inspiration. The last song on "ScreenPlay" is an original written for Clint's "Sully". Christian Jacob wrote the music and they lyric I wrote was about this spiritual process.
What is your process of learning a new song?
TS: Often I transcribe the song and put it into music software on my computer—That way I can easily experiment with the key. Then I spend time at the piano learning the song. I spend a lot of time in bed, when I can't sleep working on memorizing lyrics ("Sound Of Silence" and "Windmills of Your Mind", both come to mind.
Is there something you do before performing that helps you achieve your goals?
TS: There is a Baha'i prayer that I always say: "O God! Make of me a hollow reed, from which the pith of self hath been blown, that I may be a clear channel through which Thy Love may flow to others."
What's the funniest thing that has ever happened to you during a performance?
TS: The career of a Jazz musician is constantly juggling situations that make you feel good about your self followed, in rapid succession by situations that humble you to the core. One tour, a show at Carnegie Hall was followed, literally the next day, by a show in a club that was situated in The Dayton Ohio Greyhound Station.
How do you juggle your personal life and your music career?
TS: Well maybe the honest answer to this question is: not so well. Possibly that is why in October I married a Frenchman who has his life in Paris and plans to continue to live there. Because of the necessity of touring, keeping a traditional marriage together can be quite a challenge.
Who are your professional mentors?
TS: First and foremost my band members have all been mentors, but I have had some other wonderful teachers/mentors. The great Jazz singers Sheila Jordan and Carol Sloane were both huge mentors and recently Alan and Marilyn Bergman (Oscar-winning lyricists) have been incredible mentors.
Who is your favorite jazz vocalist and why?
TS: There can never be ONE favorite. I love Bobby McFerrin, Nancy Wilson, Nat King Cole, Al Jarreau.
When did you know you wanted to be a jazz vocalist?
TS: I wasn't really exposed to jazz until I was in college. I had always sung and enjoyed it but only decided I wanted to pursue music as a profession after I discovered Betty Carter, Sarah Vaughan, Miles Davis and the Great American Songbook…which started my sophomore year and really took off once I transferred to Wesleyan University.
Is there anyone you have ever been compared to?
TS: I think anyone who's ever done any music has been compared to other artists. I think it's human nature but from the artist's point of view it's not very comfortable. I think we all attempt to find our own path and I'm pleased to say that I'm not often compared to other vocalists. Many years ago, after a show in New York, a fan said I reminded her of a cross between Joni Mitchell and Al Jarreau. I think that was my favorite—and it was prescient since years later Al Jarreau sang a duet with me on my Joni Mitchell tribute album, "After Blue".
Did you ever have an AHA moment?
TS: I'd say my exposure to The Mary Jaye jazz trio at Tuscumbia country club in Green Lake Wisconsin in the summer of 1982 was an "a ha" moment. I was working as a singing cocktail waitress across the street, and singing Broadway and pop songs…Mary Jaye was singing all standards and I realized the songs, the arrangements and everything else about it, was what I was looking for in music.
What would you tell a young musician about the music business?
TS: I'd say that if you enjoy preparing and learning music as much as performing, then this is a good path for you. If you only get the real satisfaction from being on stage, from the audience, you will be frustrated.
Your first memory as a child of music?
TS: My first memory of music is my mother singing to me. She told me that I sang pitches and finished melodies before I spoke words.
Your first song that you heard as a child that you loved?
TS: My first favorite song was "Yesterday" by the Beatles.
Who are your favorite music artists?
TS: There are so many wonderful artists. I love Rachelle Ferrell. I love Pat Metheny. I love Raúl Midón. I love Kenny Garrett. I love instrumentalists with gorgeous sounds like Hubert Laws (flute master) and Ken Peplowski (Clarinet and sax) I am inspired by many composers and arrangers like Nan Schwartz and Vince Mendoza. I have recently been spending a lot of time with the Brazilian masters, Joao Gilberto, Ivan Lins, Elis Regina.
Who would you want to collaborate with?
TS: Having done an album of his music, I know the band would love to do a collaboration with Sting. But of course, all the musicians I mentioned above (the living ones that is).
Pick one of your songs that might be personal and tell us a little about it?
TS: The final track of "ScreenPlay" is an original that I wrote with pianist Christian Jacob. It's about the spiritual path we need to travel in order to overcome ego and be led by forces outside of ourselves. The song is called "Arrow", the idea being that each of us functions at our best when we are "in the flow" of forces outside of ourselves.
Tell us about your spiritual journey and how it pertains to your music?
TS: I think I've referred to this quite a bit already but one element I'd add is that the logistic functioning of the band was largely inspired by Baha'i principles of justice and problem solving. We are partners and make all of our decisions about music or about business in consultation. It's essentially a spiritual process.
If you didn't sing jazz, would there be another genre that you would want to sing?
TS: I think the genres are not so separate and in the end, music is music. I don't really know very many artists who are comfortable limiting themselves to one genre. I have had some recognition and success as a "jazz" singer and I embrace that…but I think of myself as just a singer and when I write, it may or may not be something that others see as jazz.
Where do you see your music going in the next 5 years?
TS: That will really depend on the musicians I get to be influenced by. I can see a lot of different things happening.
If there is one thing you could change about yourself, what would it be?
TS: I would like to be more patient. That's what I work hardest at changing in myself.
How do you stay fit and strong?
TS: I try to hike 5-6 miles or walk 4 miles on the treadmill as often as possible.
What are your health regimes?
TS: I need a lot of sleep, and a lot of aerobic exercise.
How do you take care of your voice?
TS: Vocal rest and sleep are the key elements for me.
What are your hobbies?
TS: I am a crazy cat lady. Although I only have one, Buster, he and I are, I'd say (and my husband says) abnormally close.
What's a charity that you want to be involved with and why?
TS: I support The Mona Foundation, which builds schools all over the world and supports grassroots initiatives that educate all children, empower women and girls, and enable them to transform their own communities. I have focused on a school for girls in Haiti –
What's your own fashion style?
TS: I've started to be obsessed with suit dressing. I love tuxes and suits and pants that are tailored for women, but I enjoy all sort of fashion.
What's on your bucket list?
TS: I'm looking toward more performing in Europe and Asia. I usually do a bit each year, but I'd really like to do more.
Tierney Sutton:
Facebook: tierney sutton music
twitter: @tierneysutton
Instagram: tierneysutton_music