Social media can bring people together, and if you're not sure of that, ask High Sierra Club: guitarist/vocalist Matthew Mosca was living in Utah when he messaged bassist Jacob Grabner over Twitter DM. The two started jamming when he moved back home to Las Vegas after college and recruited drummer Lyle Carter the old-fashioned way: posting ads on the local Guitar Center message boards. A little bit of blind faith – and a few pairs of earplugs – and High Sierra Club was born, playing their first show in April 2018.
High Sierra Club's music takes a counterintuitive approach to learn about your problems by shouting about them. Mosca says, "It's all in the name of growth. Most all of us desire to be better people in some way, whether it be for us or others." It's the type of indie/punk/emo music that could fit at Warped Tour or Fest or wherever in between. They blend a range of influences from sparkly emo bands like Tiny Moving Parts or American Football, to Dance Gavin Dance, to 311, to The Wonder Years and The Story So Far. If you like music that will make you feel something – and that'll make you scream along while you're starting the mosh pit – High Sierra Club is your jam.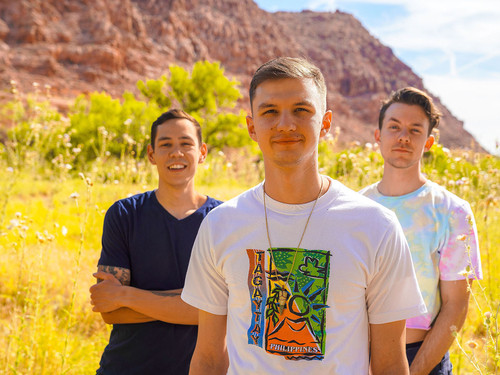 High Sierra Club is set to release their debut self-titled EP in December as the culmination of hard work from scratch. Their first release from High Sierra Club is "Waiting," a track about a period of real uncertainty and feeling consumed by thoughts and overwhelmed by choices and responsibility. They've paired the track with a video filmed in an oddly shaped detention basin in Las Vegas, on a day with zero percent chance of rain and looming, twenty-feet high walls. "Waiting" shows the band waiting for that moment of cathartic release as they perform – but the big moment never happens, instead realizing that they'll be learning and growing forever.