The popular Rock band has released another compilation of their Greatest Hits of the last decade as they reunited after their 2009- 2013 hiatus.
The 13-track record collects the more mature sound of the group as it separates itself from their original Punk/Pop-Punk style, (Pete Wentz in 2006 wearing eyeliner was a representation of my 14-year-old self) moving towards another kind of music as they experimented with many genres and instruments lately.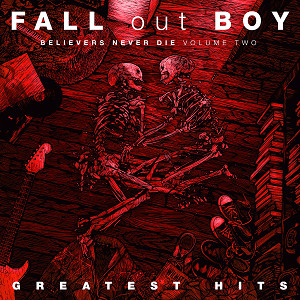 The Hiatus
John Trohman, along with the rest of the band talked on Kerrang! Podcast explaining why they went on that Hiatus just a few months after their album Folie à Deux was released. Trohman, guitarist commented "Patrick and I were more outward about the fact that we need a break, and Pete didn't realize he needed a break and turns out he did, and it was great for him…"
The conversation goes on as he also says that Andy (Hurley) the band's drummer is a Strange Cat, in a good way, as he can adapt and fit into any band situation. On the other hand, said that the band was being pushed too hard and too often.
"I think… there was not like 'oh this is where I live, this is family this is my house, here is where I get mental health assistance… it was all just go, go, go, if you want to success you have to do this, you have to be this"… John finishes the segment adding "I think we've succeeded, can we like, stop for a minute? I need to go to my house."
Wentz also spoke about what was for him the hiatus of the band, "I think it was a transitional time in my life… the band was taking a break, my relationship kind of, like, imploded…" and stated that it helped him "… I think in 2011-2012 I feel pure happiness that doesn't have to do with the band, so I was apprehensive to do the band again, but I think it was like finding joy with these guys, beyond what it was 15 years ago, it was different".
The reunion
On Kerrang! Podcast explained how after a couple of calls they tried and went to get the band together. And Patrick Stump, singer, and frontman took the word and talked about the changes on the new material the band has been producing saying that "if two of our records sound the same, somethings up, you know?"
Then they started talking about the songs on Believers Never Die Volume 2, about "My Songs Know What You Did in The Dark" Patrick said, "it was just to get back and try to see if it works". John said about it that they felt a bit old as the music industry had changed so much and that guitar-based music was not attractive to most pop radio stations.
About "Alone together" Patrick said "It was a weird one, our manager who has Yoda like moments of wisdom… I've had many parts of barely made songs, and he told me to put some of them together… and all of the sudden it al conceptualized."
The album includes posthumous Lil Peep collaboration with the band and features IloveMaKonnen, as well as "Dear Future Self", featuring Wyclef Jean, a song made exclusively for this compilation, Pete here says that the band had flirted with the idea of making that kind of song before, with ska elements, and so they pitched it to Wyclef, who enjoyed the different proposal.
"Bob Dylan" was supposed to be released in American Beauty/American Psycho, and remained unreleased, although it caused tension in the band because they thought it was cool and it didn't go out.
The band said that after this time they learned not to care that much and be calmer about it. "The mental sacrifices were too much" being part of the group and it allowed them to grow personally, not only to be on the band.
Fall Out Boy will be part of the Hella Mega Tour of Summer next year and is going around the world alongside Green Day and Weezer. We don't have a betting calculator, like in horse racing, but we can guess this tour will be a success.