Juno and Canadian Radio Music Award-nominated BLEEKER represents a fresh, new vision for alternative music. Amplifying alt-rock with stadium-sized spirit, delightful experimentation and raw power, Ontario, Canada natives brothers Taylor and Cole Perkins, with Mike Van Dyk and Chris Dimas, create thoroughly modern anthems.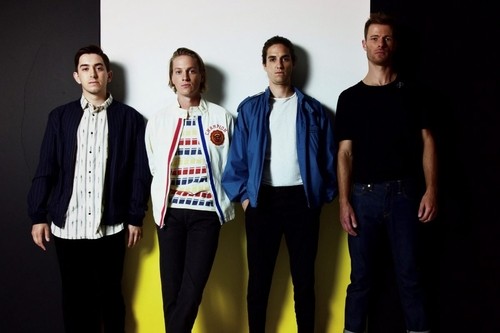 Their newest single, "Straight For The Money," tackles one thing everyone loves – money – but focuses on the idea that money can only buy temporary happiness, leaving you feeling lonely and used. "Straight for the Money" tells people that buying friends can make you feel less like a person and more like a commodity. Singer Taylor Perkins says, "If the band ever made lots of money… We would still drink cheap beer," a metaphorical reminder to their listeners to always be their true selves.
"Straight For The Money" follows the band's 2016 debut album Erase You, which produced the breakthrough single "Highway" (#1 on the radio in Canada and Top 10 in the US). Examiner describes their sound – which has been heard everywhere from the NHL Stanley Cup, to WWE, to Travel Channel – as "akin to early Stones meets Cage The Elephant with a splash of Fitz & The Tantrums." Bleeker has over 256 thousand monthly listeners on Spotify, where they've been featured on prominent playlists list Rock This (4.49m followers) and The New Alt (871k followers).
"Straight For The Money" was produced by HEAVY – Jason Bell and Jordan Miller – (Sleeping With Sirens, Andrew McMahon In The Wilderness), and mixed by Mark Needham (Imagine Dragons, The Killers). Stefano Bertelli of SEEN FILM created an innovative stop-motion, cut-and-paste like video. A rainbow pops up, flowers bloom, birds fly across the sun… and there's a police chase through the city? It's intricate and delightfully weird; Taylor Perkins says of working with Bertelli, "We got lucky to work with such a talented artist. I think I want to shoot every video in this style. It is fun to watch with or without the song. The director made the perfect imagery and storyline to take the song to another level."