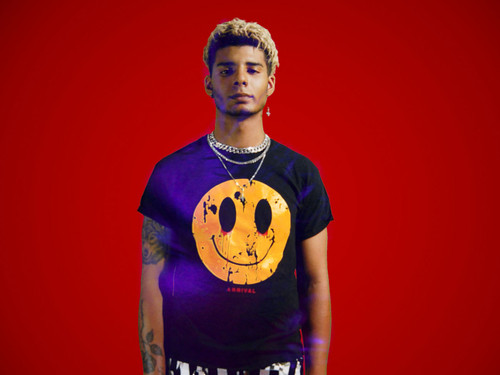 Motor City is known for its greatness – the triumphantly sad sounds of MoTown Records, the bygone days of cranking out world-class whips – but it's never been synonymous with easy living. If you live in Detroit, you work for what you've got – and the ups and downs of a town like that can take a toll. It can get lonely. So let's pour one out for the outcasts and the misfits, and throw on Kid Pullen's new single "Shine From My Casket." Musically, the Kid comes from that no-man's land between punk rock, pop-punk, and modern hip-hop. He's coming from some real trials and tribulations, having done stints in rehab, even OD-ing a couple of times. Tough times can take a man to some bad places, but lucky for those who walk those hard roads alone, this MC decided to broadcast live from the darkness. Misery loves company, and the Emo Rap scene's about to love Kid Pullen.
This may be the first time we've heard a rapper rhyme about fast cars and fly jewelry and NOT be bragging on it. He's hurting, and all these worldly possessions play a part in his planned demise. A voicemail, at once desperate and over it, is left by someone who may be on their way out… soon. That sets up the track's complete darkness over a haunting guitar progression with a ghost of a beat, and Kid Pullen's world-weary, no-time-for-games flow takes over. He'll rhyme FaceTime with flatline in his cool, conversational style, no big deal, giving his fresh take on an inner struggle that's timeless. But where other rappers might ride off into a tale of rescue and redemption, he jumps the curb and plows straight into a farewell, with just the right amount of middle finger swagger thrown in.
We open on the woman leaving the aforementioned voicemail from her sparsely furnished and decorated room at midday, with the shades drawn. An entire wall is covered with yellow caution tape, preparing us for the painful, blunt confessional Kid Pullen's about to drop on us. He says he "found that being dark isn't bad and for once something felt comfortable," and you can see it in his light green eyes. Like the cartoon Danny Phantom, who changes from a struggling kid to a ghost kid – when his eyes are green, he has a purpose. Kid Pullen's purpose? Music. Whether he likes it or not, he's right at home deep inside that thousand-yard-stare you can't quite look away from. The video keeps us guessing as to exactly how our hero is going to go out. Astride that grave, he's digging in the woods? In that bathtub filled with… is that blood? The video cuts between black and white, and gritty red palettes, mirroring his mindstate. He's iced up and fed up, and as close you can get to taking it with you when you die.
The companion clip to "Shine From My Casket," the clubby but no less dark "Can't Help," finds Kid navigating the chemical and sexual temptations of late nights wasted beneath the strobe lights.