Plenty of LA's best electronica and chill pop outfits are transplants, but how many can say they began life in the lounge of Vietnam's Saigon Park Hyatt? Shannon Hurley, one half of wave-makers Lovers & Poets, can: she did three months at the piano there as she wrote, recorded, and mixed most of the vocals and keys for their debut album. Meanwhile, halfway around the world, band-mate and husband Ben Eisen rounded it all out with bass and additional programming. They take their cues from artists like Portishead, moby, Zero7, Air, Ivy, and Massive Attack, but not just musically. Like those icons, the duo isn't afraid to go their own way: for their next record, they did a surprisingly moody trip-hop version of Duncan Sheik's "Barely Breathing," and made the bold move of covering David Bowie's singular "Ashes To Ashes." The latter got them into rotation on Los Angeles' revered KLOS, and folks began to take notice. So the stage was set for their new album and its first single "Sugar High."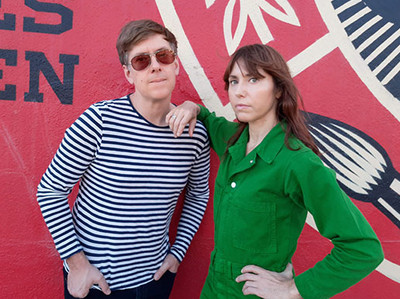 Hurley's in a tryst she knows she should run from, but she jumps in anyway. In fact, she's in it as much for the repulsion as the attraction (you know, that Wrong One you should ditch but never do). She speaks for us all with her unassuming but deceptively hooky melodies – breathy, heavenly, and rich all at once. Eisen bounces along on a dark, counterpoint bass-line, grounding the song in the downtown breakup bars and lonely, downtrodden apartment blocks. The ethereal, glitchy synths hover in the background alongside Hurley's ghostly backups, while some reverby guitar comes in like a desert wind on the back half. These are the kind of choruses you need to sing your latest pain away, as you drive through empty city streets, under flashing traffic lights, apart from the worst and best decision you keep on making.
You're awake, your conscious has kicked in, but you haven't entirely pulled yourself out of that dream you're already forgetting. Half normal, half not. In the video for "Sugar High," Lover & Poets perform in that space, in and out of focus: they're alone in an almost featureless, overexposed, ultraviolet room. Hallucinogenic patterns and imagery (who is that dancing shadow?) float and flash across the frame. Picture the clip for MBV's "Soon," after running the tape through a washing machine. Hurley's presence adds a nice twist to the character she plays in the song. The melancholy she conveys in her lyrics seems more like a cover for the femme fatale lurking just underneath: she might just be the one whose sugar high you should approach with caution.