Adrian Sutherland's "Politician Man" boasts the complete package. This is a first rate composition and band performance enhanced even further by an accompanying video dramatizing its concerns in a visually arresting manner. It is Canadian born Sutherland's debut single as a solo artist and birthed by his passion for following the often fraught relationship between the Canadian national government and the nation's indigenous peoples. There are a number of graphics included in the promotional clip further cementing that connection, but the song itself has a much broader scope. The performance runs a little over three and a half minutes long and has the sort of tight focus tracks of this type demand; there is no meandering or self-indulgence marring the recording and each of its participants come across as invested in full by nailing this tune in a convincing fashion for listeners. It is, by any measure, a resounding success.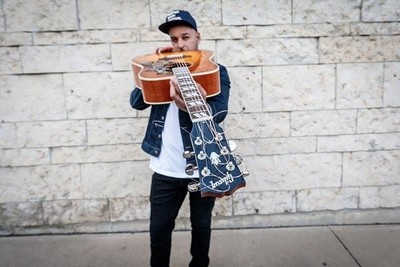 The two biggest reasons for its success are Sutherland's vocal and Justin Stephenson's video for the single. Sutherland's video proves, if nothing else, he's listened to his fair share of "protest" music over the years, whether its Pete Seeger, Bob Dylan, or Springsteen, who knows, but he's taken lessons from the style's predecessors and transmuted them through his own voice and experiences. He's a talented vocalist despite not possessing what you might deem a technically outstanding voice – his range is suspect, but his ability to encompass reams of emotion and meaning with his voice is never suspect. Another crucial aspect of his vocal performance is how he shapes his voice to work with the band rather than contrasting it against the musical arrangement.
Justin Stephenson's video fleshes out the track further. His visuals explicate some of the central concerns inspiring Sutherland and his collaborators to write and record this tune but never in an obvious bash you in the head sort of way. The same artistry fueling the musical performance finds expression in the video, albeit the contexts are quite different. Stephenson deserves credit as well for realizing the importance of Sutherland's lyrics to the final result and how including them strengthens his video presentation.
The musical story of the song is one of small touches amounting to a greater whole. The electric guitar fills wreathed in reverb, Sutherland's assorted harmonica breaks, and the spot on drumming come together quite well. This is, essentially, a lightly electrified folk song but it packs enough muscle to avoid sounding willowy and, instead, seems closer in spirit to Americana. It's a genre Canadian musicians as far back as The Band seem to understand well. Adrian Sutherland's "Politician Man" avoids tying itself to one moment in time and, instead, tackles a feeling countless generations have experienced and will for eons to come, but it never concedes hope – there's still plenty of fight left in Sutherland's heart, but there's always a yearning to be heard and, above all else, heeded. Let his voice and music resonate across the Canadian landscape and even further on with this single release.
Gwen Waggoner