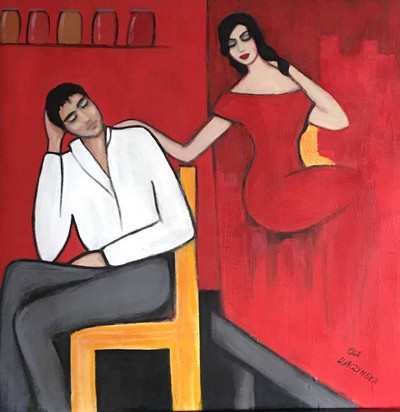 It was truly a case of Art imitates Life imitates Art when the third single from The Peter Ulrich Collaboration's album "Final Reflections" entitled "Lessons of Love" came into being. Producer Trebor Lloyd met Polish artist Ola Lubczyńska online through mutual friends. As it turned out, Lubczyńska was contemplating a painting where a man interacted with a painting of a beautiful woman while, at the same time, lyrics were spinning in Lloyd's head about an art lover falling in love with a master painter's rendering of another beautiful woman. Throw into this happy confluence some music from New York songwriter Anne Husick, collaboration head Peter Ulrich and others, enlist the charming Israeli American vocalist Sharon Hochma-Hawk to sing lead and not only was the song, Lessons of Love. born, but a lovely canvas from Lubczyńska ensued. The beautiful canvas was used as the cover image for the single and on YouTube for the audio video. Final Reflections, to be released on December 3, is the third and final album in The Painted Caravan Trilogy.
LEARN MORE ABOUT OLA LUBCYNRISKA AND SEE HER PAINTINGS HERE:
http://www.lubczynska.pl/en/about-me
As a special thanks to Collaboration fans, from October 1 until November 5th, the new album Final Reflections – along with the entire Painted Caravan Trilogy – will be available on a pre order basis at a special discounted rate through AIS Records which is distributing Final Reflections and The Painted Caravan Trilogy under an exclusive license from City Canyons. Stayed tuned for a link for this very special discount with access to the entire Trilogy at one convenient location.
With The Painted Caravan Trilogy now complete, Peter Ulrich brings his colorful Caravan home full speed ahead. All aboard for the final exhilarating trip!
"A rich and song-filled showcase"—RollingStone.com
"Grand mix of folk and world music"—Modern Drummer
"Riveting and intriguing"—Popdose
"A collaboration to be cherished"—The Independent
"Colorful and enjoyable record"—All Music Guide