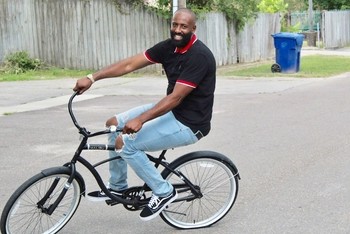 Slim KuttaR is an artist creating noise in the Hip Hop world and beyond. Having recently been a performer at the NAMM convention in Anaheim, CA and embarking soon on a new musical release, Slim is one busy artist. We had the chance to learn more about his upcoming projects.
Slim, tell us about your summer plans!
I'm releasing a smash hit single mid July and my summer tour start then as well.
What can you tell us about the new music you are currently working on?
It's definitely something for everyone's enjoyment.
What have been your favorite releases from major artists this year?
It's so many but Nipsey Hussle "Victory Lap and J. Cole "Middle Child" just to name a few.
Who do you consider your greatest heroes?
Hands down my mother! We don't have enough time in this interview for me to say all the reasons why. Then I would say President Barack Obama for becoming the first black president, and a good one at that!
If you had to name 2 of your top inspirations in songwriting who would they be and why?
My daughter because she lets me know if the song is good or not lol. My own personal A&R. Crazy enough I would say women because they're the most loyal fans overall. No knock to my fellas though. Every song I write I always ask myself what's in for the women.
It takes a lot of focus and tenacity to make it in the music industry. How do you balance the two?
I feel those two go hand and hand. In order to be successful you have to be focused on the task at hand while giving %100 percent tenacity to see it through.
Where can we buy your music and support your career on line?
You can download and stream my music on all major platforms. Please follow me on Twitter and Instagram @slimundisputed, Facebook @slimkuttar, or just visit my website http://www.slimkuttar.com – thanks!