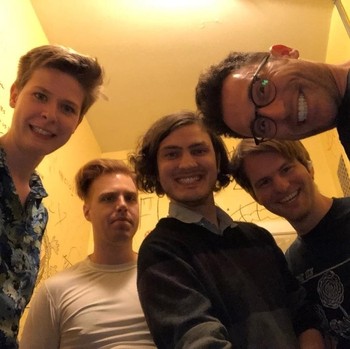 FACEBOOK: https://www.facebook.com/woongiband/
Piercing percussive textures are met with kaleidoscopic visuals of a psychedelic nature as we take in the first thirty seconds of the music video for Woongi's new single "Not Sad Sequence." Steeped in a surrealism of the most erudite quality, "Not Sad Sequence" is at times both visually demanding and audiologically overwhelming, whilst remaining as boldly colorful and aesthetically engaging as anything I've had the pleasure of checking out this spring. Woongi is delivering something brutally cerebral, but it doesn't feel the least bit removed from mainstream accessibility thanks to its sublimely high definition finish, which affords both the video and the single itself a top-notch cosmetic appeal. There aren't a lot of artists that are willing to endear themselves to the experimental elements within their music as much as this band does in their latest studio cut, but in a year that has already proven to be far more eccentric than the one that came before it (at least in terms of new jams), Woongi successfully set themselves apart from the crowded pool of talent they share a scene with.
From the get-go, there's so much going on in the video for "Not Sad Sequence" that it can be difficult to decide where to focus our attention; the ever-changing pastel-saturated backdrops, the multidimensional figures that come alive in animation when we're least expecting them to, or the muscularly-stylized bass-driven breakdown that is serving as the soundtrack. For me personally, it's hard not to notice the physicality of the beats in the background, which are as sophisticated and full of rich vitality as anything in the melodic instrumentation is. The vocal harmonies are soft and gentle, and contrast with the brash demeanor of the synths in the most beautiful way. There's no escaping the sonic depth of this bottom-end though, and to be perfectly frank, I don't know why anyone would want to. "Not Sad Sequence" is a rare sort of track that would suit the club-going crowd just as well as it would the introspective stoner or the discriminating music enthusiast in search of a more urbane listen this season. That sort of versatility is tough to come by, to put it mildly.
While "Not Sad Sequence" doesn't introduce us to anything world-altering in its four and a half minutes of sheer vivaciousness, it offers us a thrilling pop experience that, up until this point in the year, was arguably missing from the airwaves in 2019. There's still plenty of room for growth, but Woongi are demonstrating a vicious command over their songcraft in this new single, and for my money, it's the most complete and well-rounded representation of their work released thus far in their career. "Not Sad Sequence" has a robust low-end tonality that will crush pretty much anything that dares to get in its path, but its angelic, evenly-mixed vocal track and emotive lyricism make it as much a brooder as it is a bruiser. We've heard some epic music from across the pop world this spring, and Woongi's latest cut is easily among the cream of the crop.
Gwen Waggoner