After hearing Chris James at one of his tireless performances, you're immediately – and intensely – drawn into his music, taken on a journey with his heartfelt songs. His warm vocals and authentic writing style combined with a bold grit give Chris James and the Showdowns that classic-infused deep-rooted Americana rock sound. Beginning as a local performer in Portland, Maine, James knew that he had to get his name heard in bigger cities. He left for San Francisco with nothing more than a guitar in hand to find work. Eventually, he joined forces with The Showdowns, a Bay Area-based group comprised of Matt Berg (drums), AJ Leighton (bass), John Paterson (keys), and Whitt Vicena (lead guitar). The unity amongst the band can be felt at every show through their synergized performances.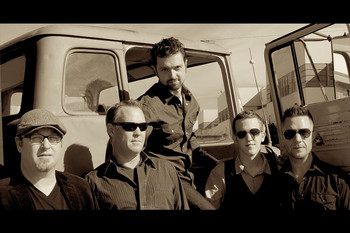 Songs from their debut album, Lucky Breaks, and music from James' solo work have been played generously on SiriusXM Radio, radio stations throughout California, and placed in TV commercial promos. Chris James and the Showdowns' second album, Somewhere out in California, is authentic, dance-driven, heartfelt, and is set to release May 1. They have a packed tour schedule for the rest of the year, including full band and solo performances.
https://chrisjamessongs.com/home
Driving down the open road can get us lost in our thoughts when surrounded by the right views and accompanied by the right music. The title track off the album, "Somewhere out in California" begins with an acoustic guitar solo then joined by elegant piano keys. The intimate video is characterized by the natural beauty of California: the views, the ocean, and the forests. "Somewhere out in California" is the narration of a restless heart, reminiscing on all the possible "what ifs" of life. Every day we are forced to make hundreds of choices, big and small. After making a decision we sometimes have afterthoughts, imagining how life would be if different decisions were made and if different things were said. The lyric, "Did you ever feel like we missed the bus" is the metaphorical concern of making the wrong choices in the past and missing prime opportunities or possible new adventures. It is essential to remind ourselves to take risks: if not, we will regret all the possibilities that could've been.