Solo artist Michael Marquart is no stranger to exploration and heading alone into unfamiliar territory. In fact, he's made a career of it, putting out eight albums under the moniker A Bad Think. "Falling Star" is the second single off his latest release, the double album Savior. It's a somber, atmospheric modern rock haunter with a video to match.
His layers of softly strummed, effects-laden chords and sustained synth notes manage to sound orchestral without an orchestra. Breathy, restrained, almost mournful vocals, evoking Pink Floyd, complete a shadowy ambiance. An up-tempo beat and sneaky percussion soon join in, and the track creeps its way along a surprisingly uplifting build in tonality and texture. The instrumentation and sonic choices here make it tough to drop just one label on "Falling Star." However, with A Bad Think, that's pretty much always been the case.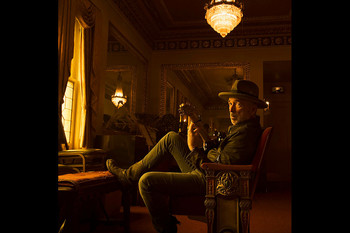 Marquart cut his teeth as a professional musician behind the drum kit for New Wave chart-toppers Flock of Seagulls. Over the course of his subsequent thirteen-year solo career, the songwriter and multi-instrumentalist has beaten his own path across almost as many genres as he has records. Hooky earfuls of Ambient, Southern Rock, Folk, Alt-Rock, and even some New Age can be found throughout his work. He moves between genres with an ease that eludes most.
Fittingly enough, Marquart plays a traveler in the video, directed and produced by Derrick Borte. But this is no vacation. A ghostly, hooded figure rows him through narrow, pitch-dark waterways. Their course is dimly lit by a handheld lantern and scattered flames rising from the inky depths of these Old World city's canals. As he sings lines like, "I see another falling star, caught up in the atmosphere, to never meet its mark," there is a knowing resignation in his voice. He understands the star's potentially self-destructive push against standing still, against the familiar, the refusal to "know one's place."
Marquart's traveler finally reaches his destination, the resting place of a cryptic book likely hidden away in this desolate underworld gloom for a reason. He has a decision to make, one from which it appears there is no turning back. It's a highly appropriate narrative for an artist who consistently traffics in musical risk-taking. The song and the video both beg the question of where A Bad Think is going to take its beauty and its darkness next.