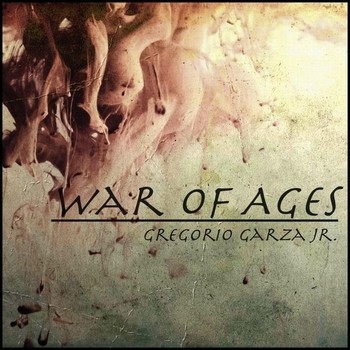 With a true sense of majesty, Gregorio Garza Jr crafts an impressive cinematic tour-de-force with the colossal "War of Ages". Everything about it goes for an unspoken classical narrative. Full of incredible flourishes and such gorgeous color the entirety of the album simply teems with an undue amount of life. Instrumentally dense the pieces have a fluid quality to them. Electronics with an ancient quality dominate the entirety of the album, for the classical underpinning lead it along. Beyond this there are nods to rock anthems that pulse throughout the entirety of the album.
Audio Link: https://gregoriogarzajr.hearnow.com
Aptly named the album opens up with the incredible rush of "Conquer". Done with the greatest level of sophistication, it at times recalls Mu-Ziq's album "Royal Astronomy". Nimble harp plays an important role on the tactile "Dark of War". Electronic distortion dominates on the colossal "Chaos Tomorrow". This intensity continues on "It's Coming". Percussion has a tribal flair on the bouncy work of "Pathfinder". Strings sweep elegantly on the album highlight, the passionate performance of "Revenge". Mysticism pours through the entirety of "Sin". Powerful with its fanfare is the brilliant "This Is Ours To Take" where the whole of the piece churns about. Snaking about with a sense of purpose is the potent coda of "Modern War". Neatly concluding the album is the tender "What Have We Done".
Gregorio Garza Jr proves to have an impeccable ear for melody and eye for gorgeous arrangements on "War of Ages".
Website: https://www.gregoriogarzajr.com
Social Media: https://www.instagram.com/gregoriogarzajr