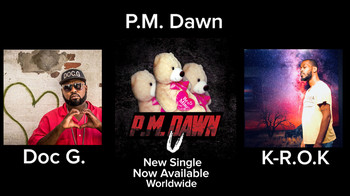 P.M. Dawn, masters of Hip-Hop and Rap together in a song with a sophisticated twist have just released their "feel good" single "U", which will be followed by a brand-new album. The two original members, brothers Prince Be and DJ Minutemix, (Attrell and Jarrett Cordes) of P.M. Dawn established themselves as a unique, sensitive and introspective, spiritual union. The duo was ground-breaking in that their vast amount of recordings that inspired Billboard to retitle their R&B charts with the addition of "Hip-Hop."
Sadly, Prince Be passed away in 2016. His cousin Doc G and K-R.O.K, a huge producer in his own right continue to record and perform as P.M. Dawn. Their "dream rap", or "cloud rap" still prevails and is evident and captivating in their newest release, "U", a sensitive and compelling "don't be afraid to love song."
I spoke with K-R.O.K and instantly fell in love with his persona and his spirit. His soulful and spiritual identity translate into the vibe of the music. He's excited about the faction's new music and anxious to let the planet hear it….
I love your new song and I'm wondering although it has recently been released what are your plans next? Will you be touring in support of the new single and/or will you be coming out with an album?
The answer is yes to both. My partner and I which is Doc G are going to hit the road with the single promoting pretty soon. Also, we are dropping a P.M. Dawn album that's currently in the works as we speak. But we just wanted to put out the single to let people know that P.M. Dawn is back. It's time to push the new music.
Who wrote the new single?
It was a mutual collaboration between me and my group member Doc G. All of the music is 100% between us.
What inspired "U"?
Honestly, love. Just love. You're thinking about a woman that you've known for quite some time. You're just letting her know that "hey I'm totally grateful for you and your energy." You make me feel this way and that way. It's one of those songs that make you feel happy and full of love.
Just a feel good song.
Right, right. Exactly. That's why we chose the single because in our days now in the world of music people are either turned up or some other weird not so cool stuff. We wanted to make music that people can feel again and say "hey it's OK to be you, it's OK to fall in love, and actually love the person that you love." So that's why we came up with that single.
It's good timing for that song too.
Definitely, definitely, definitely. If you notice the spelling, we didn't spell it like the word "You", we spelled it like the letter "U." I've done a lot of creative cool stuff. We are totally excited, you have no idea. The same music that our group came out with years ago, still works to this day. We were the first group to merge this singing and rapping together, before the Drakes, before the Kanye's, before the Pharrell's.
What were your influences growing up, and what are your influences now?
For the past I would say, of course my own group, De La Soul, Earth, Wind and Fire, Curtis Mayfield, The Doobie Brothers, Kenny Loggins, The Beatles, Jackson Five, Jimmy Hendrix "Laughs" I'm just a music junkie.
Yes, I can tell. Now part two….
Well, I'm gonna say, theres group called "The Internet", I don't know if you've ever heard of them? They are totally awesome. You have to check them out, I've mentioned them in several interviews. Also I would have to say N.E.R.D as well, "in which is Pharrell's band" because I am a Virginia native, and being around them at one point was totally dope. And also I would say I dig Taylor Swift to.
That's an interesting and diverse choice of influences.
Yeah, besides being a music junkie, I call myself an Oreo sometimes. I am hip-hop on the outside but I'm pop and R&B and rock on the inside. I love all types of music. There were so many artists that I like but the ones that I named are the ones that stick out to me a lot to be honest with you.
While you were touring, if you could have your ultimate stage fantasy what would you want to happen?
I would have a crowd of people on stage singing a song that they know the words to from our catalog to the crowd that's already out around the stage. There would be a cool Mosh Pit, and people would be jumping in the crowd. That's really about it. When it's performing time…. just the fact that you can tell fans whatever you can tell them, whether it's the music or the message and people following you, that means a lot. I totally dig that so just seeing fans interact with the music both on stage or outside of the stage, it's fine with me. There's the message and the music.
Ok, so if you could say anything to your fans what would you say?
Stay dope. Don't let anyone tell you no. Where there are three doors that are closed, the fourth one may be open and unlocked, so go from what you know. Be faithful to the universe. The universe is always on your side as long as you think positive.
Where are you based?
Right now, I am based in Arizona, which I call my secret hideout. Away from the world. Arizona has a lot of history. There's something about this place, very low-key , and you can just be you. Plus, I grew out a beard living out here was pretty cool. "Laughs" However, I kind of call this place a miracle horse with no name. That's what I call it when I think of Arizona.
Will there be a video along with this new single?
We actually are working on that video as we speak. We should have something maybe within the next month or so, to drop the official video. Right now we are promoting the MP3 single that's out everywhere.
If can have me ask you any question in the world what would you want me to ask you, and keep in mind you also have to give me the answer?
I already know the question. Which is why do you think God is dope??. The answer is because God loves you. That's why. He loves us all. No pigmentation is better than others, no race or gender is better than others. We are all one people, God loves us all. It's just our journeys are different from others. Let's communicate and respect each other's humanity.
Is there anything else that you would like to say?
I'm just a kid from Virginia Beach Virginia . I never would have thought this would be what it is today. I am totally grateful. Have you ever been at a loss for words but in a happy way? That's how I feel right now. I'm just totally grateful for those who believe in the project of P.M. Dawn, but there are some people that try to erase us from history.
Talk about that for a minute.
We need to make people understand if it wasn't for our group a lot of things that take place now in the music industry would have never been done. The thing is we have broken down barriers with singing and rap. Back then our group used to get blocked for that. At one time we heard " You shouldn't mix hard core hip- hop drums with smooth melodic melodies" It sounds bubble gum. But whats crazy to me is, the real hip-hop heads wanted to dance to our music, but it was like an image thing. They thought "I don't want to dance to it because I've got to stay hard-core, you know look like the tuff guy "K-R.O.K Chuckles". But the reality is they knew that the music we were making was feel good music. "Set a drift on memory bliss that is" " Laughs" Lets not forget in 1991 we where the first Rap African American hip-hop group to chart number one on Billboard for weeks, and also named 100 best duo groups as well. So to me, that record was one of the best records of all time. But that same feeling that we inspired the world or shall I say the universe way back then, is the same feeling we are going to bring back again now. We just want people to know that you cannot erase P.M. Dawn from history.
P.M. Dawn have just released the second single off their highly anticipated new album entitled "How Can I Not Feel Love?"
Listen to "How Can I Not Feel Love?" on Spotify:
https://open.spotify.com/track/3ejr4WJVedNYLp2477Cy3z?si=f–PE_FwQ5WPfkW2BLOBKA
P.M. Dawn On The Web:
Twitter: https://www.twitter.com/OfficialPMDawn
Facebook: https://www.facebook.com/OfficialPMDawn/
Instagram: https://www.instagram.com/pmdawn
Listen to "U" on Spotify:
https://open.spotify.com/track/5Ae856n0gBoQLH6bphpW3W?si=tn_PvfXxQWKMHy-V48OX0A