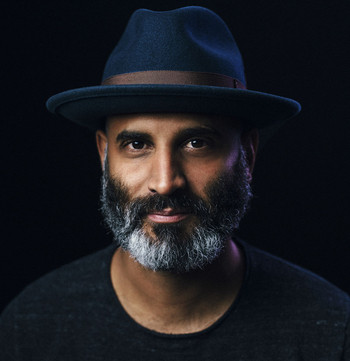 New York City can be beautiful and exciting; that's a given. But the city is also a place of heartbreak, pain, longing, and frustration. In his beautifully shot, self-directed video for "ONLY HUMAN," modern soul singer DAX BROOKS turns the camera on the faces of ordinary New Yorkers amid personal struggles. Breakups, loneliness, dissension, brutally hard work – it's all part of the city's tapestry. The singer's compassion for the challenges of his subjects is present in every frame he shoots, and if you've got a heart, you're guaranteed to get swept up in his artistry.
Dax Brooks is gifted with an amazing voice: a voice that radiates empathy, a perfect conductor for tales of heartache and deliverance. Some good singers demonstrate range, others emotional flexibility; others foreground the grit in their voices or a dazzling falsetto; some are born storytellers, some are adept at selling a hook. Brooks does all of that and more. He's such a fantastic, soulful singer that it's likely you'll wonder why you haven't heard him before. It's only because he's spent a productive career on the other side of the camera, directing, editing, and producing television shows, movies, and videos. Brooks has been so busy making films that he's only recently applied himself to the soul songs he was born to create – but now that he has, we think you'll agree that he's here to stay.
As you might expect from a clip by an experienced director, the video for "Only Human" looks fantastic and tells its stories with absolute assurance and clarity. What might surprise you, though, is the amount of pure feeling Brooks captures and the raw, unvarnished humanity of the characters in the clip. Brooks shows us an elderly woman who has lost her partner, a dancer on the grind, and a couple in the middle of a final fight before a breakup. All struggle, all are deeply human, and all are worthy of our sympathy and respect.