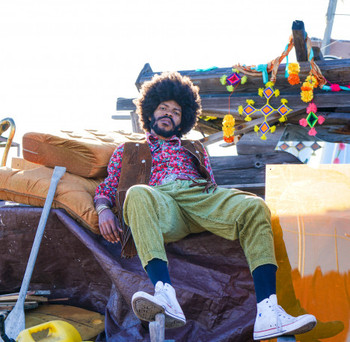 Mahawam straddles a line between technician and artist. A means to process both the trauma and joy at the intersection of Black queer identity, their work as a producer and vocalist serves as a study in the ways that intersection informs cultural and personal progress. Mahawam's new EP 'Is An Island' serves multifaceted explorations of resignation, loneliness, lust and hope navigated during their journey to come to terms with their HIV diagnosis with the intention of bringing visibility to nuanced experiences of similar bodies in similar situations. Today, Mahawam releases the 'Is An Island' EP. You can listen on Soundcloud.They also have announced their LA EP release party, slated for 4/3 at The Virgil with Ricky Lake and Suga Shay. Tickets can be purchased here.
Co-produced by Akiyoshi Ehara of The Seshen, 'Is An Island' is an offering of forward thinking sensibility that joins honest introspection to a knowing levity, creating a refreshing and focused blend of hip-hop, electronic pop and r&b.
'Is An Island' is out today on Molly House Records.