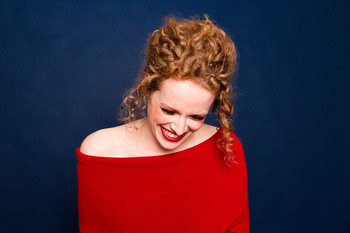 The first thing that greets a visitor to Kristen Lee Sergeant's website is a curl of smoke. Not static smoke, either; it's animated, which indicates that something is on fire. Evidence of that blaze is all over Sergeant's recordings: the jazz vocalist is always singing about conflagrations of one sort or another. She's given her album (one that contains a sterling reinterpretation of the standard "Smoke Gets In Your Eyes") an incendiary title: Smolder. "Balm/Burn," the self-penned single, uses the metaphor of the flame – and the salve – to examine a rocky romantic relationship. Then there's Sergeant's searing stage presence and a vocal approach that never fails to bring the heat to whatever she happens to be singing. Sergeant is a woman unafraid to play with matches.
Site – http://www.kristenleesergeant.com/
Small wonder, then, that her career is catching fire. Kristen Lee Sergeant's star has been on the ascent since the release of Inside Out, her 2016 debut, and a Downbeat Editor's Pick. That record introduced Sergeant as a cultural translator: a quick-thinking, witty jazz singer with an uncanny ability to tease the complexity and nuance out of standards and classic pop material. Smolder is deeper, brighter, and wiser, and Sergeant establishes herself as both a fearless interpreter and a visionary in her own right. The eclectic, polyglot, imaginative set – one which contains Sergeant originals, a provocative jazz version of Spandau Ballet's "True," and forays into chamber music, classic torch song, and Latin rhythms – is held together by the Massachusetts native's radiant singing. Hers is a voice that can sear and comfort, sometimes simultaneously.