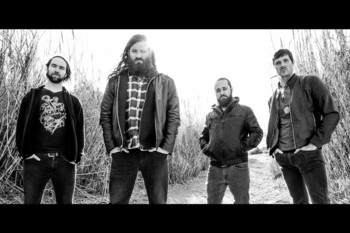 Special effects are fun to see, and a story can be rewarding to follow. But if a rock band is good – and we mean really good – there's nothing more exciting to encounter in a video than footage of those musicians playing live. The clip for "Empty Chamber," the latest single from Lullwater, doesn't feature anything fancy: it captures the Athens, GA hard rock band in the studio, deep in performance, playing the song with absolute conviction and smoldering rage. We think you'll agree that the video requires no further embellishment. You'll be mesmerized by their skill, their passion, and their dedication.
http://www.lullwatermusic.com/
Hard work – and songs like "Empty Chamber" – have taken Lullwater a long way. The group, who are named after the Athens backstreet where they used to practice, has honed its skills to a dangerous, gleaming edge, and the muscular Voodoo, their third and latest album, demonstrates just how much heat they can generate. Produced by hard rock mastermind Jakob Herrman (Machine Mead, Anthrax, Manimal, many others), the new set builds on the stormy momentum Lullwater generated on their 2015 set Revival. Once again, they're combining punk, grunge, metal, blues, and classic Southern rock in a singular fashion, squeezing every ounce of danger, anger, and exhilaration out of each bar they play. "Empty Chamber" epitomizes Lullwater at the band's ferocious best: it's a roar of anguish, but it's also a cry of freedom. There's pain here, but plenty of joy, too. Sevendust and Tremonti could not have asked for more accomplished or more exciting tourmates.