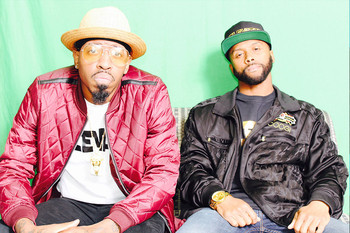 Real love is whispered on long walks, not shouted from rooftops. When your situation is the right one, you set it to private. It's all about affection, not approval. Gold Dig and Mista Roe's new single "Situation," off their just-released Elevated EP, is a positive, uplifting track, combining classic R&B and real hip-hop from two artists on the come-up. They met ten years ago but knew they had to wait until the timing was right. Opportunity kicked in the door at the end of last year when Gold Dig decided to revamp an upcoming single. He felt like a Mista Roe feature would give the record the impact it needed; they were in the studio 12 hours later. That one record turned into an entire EP that was created from scratch and completed within 2 weeks time.
Lubbock native Gold Dig jumped into freestyling in junior high, catching ears with a flow that folks couldn't quite compare to anyone currently out there. He was soon releasing albums nationwide while hustling CDs at shows city-by-city. The initial run of his 'N My Own Lane LP sold in a matter of weeks. With his uniquely animated rasp and unstoppable drive, he's always been in his own lane. Mista Roe's Pops was a DJ and passed his love of the classics – Al, Barry, Marvin – on to his son. The 2017 re-release of Mista Roe's The RnB King of Shreveport is the first nationally-distributed R&B album by a Shreveport artist since Motown Records' Profyle blew up back in the late '90s.
http://www.facebook.com/golddigmusic
The "Situation" video was directed by Jeff Adair. Just over ten years into his career, Adair has established himself in the world of short films and music videos. He's worked with UGK's Bun B, Grammy Award-winning producer Symbolyc One, Nipsey Hussle, Slim Thug, Yella Beezy, and Golden Globe-winning producer Slikk Muzik. His work has been featured on the likes of BET's 106 & Park and MTV Jams. In the "Situation" video, we get an intimate view of a day in the life. While Dig and Roe spend quality time with their women, their haters are grabbing the popcorn, judging on what they can't have. Our heroes remain unfazed, focused on what's real. They're all about lavishing gifts on their lovers – whether they're big and extravagant or small and thoughtful.