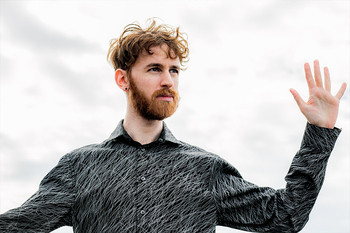 As a born and raised New Yorker, Andrew Feyer, who performs as Feyer, has a seasoned past in music. From piano lessons to songwriting to playing in various bands, Feyer began to record and produce in his bedroom to outline his individual style. In addition to assisting in projects with other musicians, Feyer also scores for film and video games. Considered a "genre-bender," Feyer has a style that is hard to pinpoint. His key components are theatrical lyrics, electronic-rock production, and the merge of retro and futuristic sounds. Visual elements are also critical to Feyer, as he uses them to mirror his messages. Primary influences include Queen, David Bowie, and Talking Heads. Feyer wants people to know that music should "challenge the listener and give them something new to try on for size," so get ready for the ride.
Feyer has been recognized by major outlets like Buzzfeed, AXS, and Popdust. His favorite part of the process is watching the final product come alive during a show. Feyer can be found performing in New York's underground venues like the Knitting Factory and Arlene's Grocery. His debut album Signals Internalized, released in early 2017, was described as thought-provoking and risk-taking. Feyer has big touring plans for this summer.
Produced and animated by Aqueous Animation, Feyer's music video for "Stuck in a Video Game" critiques the modern obsession with technology. In the clip, Feyer transforms into a video game character and struggles to complete each level. After each level, there is another challenge that Feyer has to overcome. The video takes a dark concept and twists it into a comical video, showing the modern truth of how we as humans do not have enough skills in life to improve because we are too busy focusing on a screen.