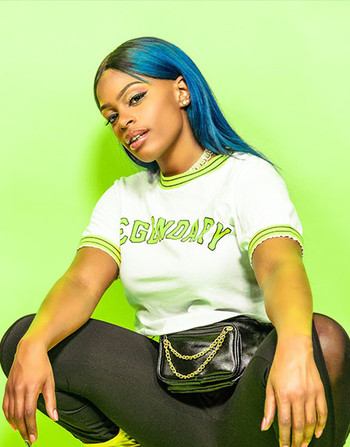 The Houston hip-hop and R&B scenes have given the world more than their fair share of superstars. The latest up-and-comer is Imani Scott, and she's burning bright. Born and bred in the "44" section of H-Town, this firebrand with the electric blue hair and lyrical fangs can jump genres and own stages with the best of them.
http://www.imaniscottmusic.com/
Fellow Houstonian and multi-platinum Grammy-nominated producer-engineer Isaac "Chill" Yowman ran the boards for her debut album, The Introduction. He's helmed tracks for Beyoncé, Snoop Dogg, Ciara, and The Game, and recently partnered up and created content with Marvel and Sony. Yowman brought his decade of experience and multitude of influences to Imani Scott's fresh mix of R&B, pop, hip-hop, and funk.
All at once soulful, sexy, and completely badass, her latest single "Lost Yo Mind" is no "Baby Come Back" – it's a short, not-so-sweet "Sucks To Be You." The fool that messed this relationship up is about to pay the price, because, in Ms. Scott's own words, she "done really ran out of fucks to give." There are millions of him and only one of her. It slowly becomes clear as you watch the video, she's about to burn it all to the ground and not look back.