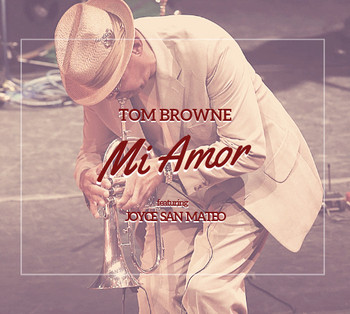 Tom Browne delivers a perfectly lush piece of jazz pop on the soothing "Mi Amor Featuring Joyce San Mateo". Full of life, the trumpet playing has an exceptional quality to it, opting for a vivid take. Vocals courtesy of Joyce San Mateo imbue the entirety of the track with a true sense of love. When paired together the stream of consciousness casual cool of the work simply stuns. With nods to such jazz pop greats like Astrid Gilberto, the entirety of the track feels outright joyful. A tremendous amount of sun rests within the radiant hues of the song basking the listener in an overall feeling of optimism.
Glistening keys introduce the piece. Upon the trumpet entering into the mix the song truly begins. Vocals have feeling of pure happiness. The tempo has a laid-back mellowed air about it while it rolls forward in an unexpectedly peaceful way. Layer upon layer comes into the mix adding to the melodic richness of the whole track. Easy to get lost in, the hypnotic quality of the song is undeniable. Highly mysterious, the piece has such a blissed out take to it as it all comes together in a wonderful way. Small details matter a great deal, from the little flourishes of melody to the additional percussive elements filtering in and out of the mix.
Melodically rich and rhythmically precise, Tom Browne's "Mi Amor Featuring Joyce San Mateo" has a deliriously carefree attitude.
About: Tom Browne is a Gold Record Recording artist that hails as far back as the late 70's. His smash hit "Funkin For Jamaica (GRP/ARISTA) from 1980 sent his name and music into worldwide radio play and this was the genesis of a number of successful hits like "Thighs High" and Forever More. As a Jazz Trumpeter, his new Single " Mi Amor" featuring Joyce San Mateo is a visit into the world of R&B, Contemporary Jazz, and Smooth Jazz . At a time when the Smooth Jazz market is permeated with many up tempo style songs, this slow and sultry song is close to "bed room" romance grooves and definitely stands out. Browne utilizes his flugelhorn on this song and this song is the first single from his forthcoming spring release "Come What May"