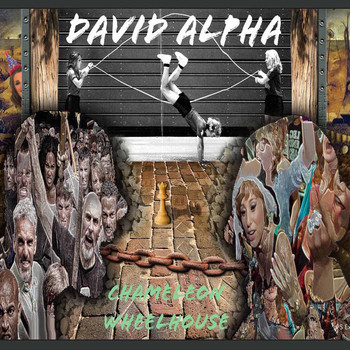 David Alpha embraces a raw, gritty sound on the intense hard rock of "Chameleon Wheelhouse". With a fully-lived in approach the songs have a classic 70s rock defiance to them. Volume needs to be blasted as they offer jagged edges of riffs, rushing through everything with a fiery passion. Stripping things down to the essentials the songs feel positively timeless as they embrace a feral uneasy spirit throughout the whole of the piece. Percussion goes for a purely physical quality, as the vocals have an animalistic quality to them.
Starting things off on a high note is the unhinged ambitious sprawl of "Light the Rockets/Hungry Ghost". Impressive guitar work adorns the whole of the track, making it the highlight of the entire album by far. Unusual twists and turns comes into the piece further adding to its kaleidoscopic hypnotic quality. Things slow down a bit on the driving "Universalon" as it all works in unison to create a wonderful ecosystem of sound. A sense of urgency permeates the whole of "Wake Up Gloria". Done with the greatest level of care, the lyricism has a particularly poignant quality to them as they focus upon the contemporary state of the world. The acoustic guitar further adds to the powerful punch. Neatly bringing the whole of the collection to a soothing close are the sly grooves of "Me or Him".
Stream – https://davidalpha.bandcamp.com/album/chameleon-wheelhouse-expanded-ep
On "Chameleon Wheelhouse" David Alpha crafts a pitch perfect crazed manic energy, one whose spirit lingers long after it is over.