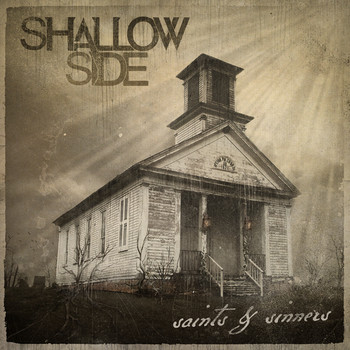 Shallow Side give the blues a hard rock kick with the powerful "Saints & Sinners". Truly gifted storytellers, they explore narratives of loss and redemption. Doing so in a way that feels so vivid everything about the album stuns. Volume deserves the highest possible setting for they go for an expansive, take no prisoners approach. Elements of grunge, arena rock, and even hints of folk further filter into the mix to give it a fully realized quality. By opting for such a style, they create their own truly unique universe. Hard to precisely pin down, at times their work recalls some of Alice in Chains' output in terms of the dark, heavy subject matter.
The tone is set immediately with the potent opener "Revival" where the vocals have a commanding presence. Going for an ancient take is the folksy rhythms of the title track, the intimate portrait of "Saints & Sinners". When they blast the volume, it has a force of nature quality to it. "Drugs & Lust" comes into focus in a unique, satisfying way offering a slight hint of hope. Letting things slow down a little is the reflective "Temptations". Guitars intertwine on the colossal "Hallelujah" by far the highlight of the album. With a jagged edge to it is the intense rush of "No More". Perfectly bringing it all to a close the chaotic "Carry On" is a pure joy.
Full of a fiery passion, Shallow Side sculpt a thing of dark beauty on "Saints & Sinners".