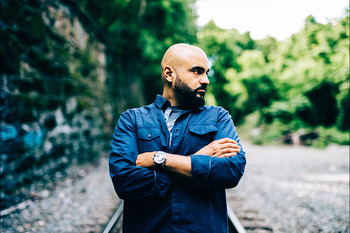 Philadelphia-based producer ash.ØK is well known for merging genres and influences in his music. From gritty boom-bap and trap to electronica and folk, the artist/producer weaves lush and intricate soundscapes, creating the perfect stage for a commanding performance from his many collaborators.
Wholly independent without a label or corporate machine, ash.ØK has forged his way in the industry, working with a number of well-known artists and seasoned vets in the business. His last album, The Unraveled, was engineered by Grammy-winning Jeff Chestek, who has worked with artists like Kanye West and Justin Timberlake, and Kelly Clarkson. He has been featured on outlets such as Popdust, Huffington Post, and Atwood Magazine.
http://instagram.com/callmeashOK/
The latest release from ash.ØK's project is "Breathe Me In", a deep and spiraling electronica track featuring Anna Yvette, a wildly-popular vocalist who recently worked with acts such as Machine Gun Kelly and Pegboard Nerds. NY-based singer-songwriter Rianjali (who recently performed with Shawn Mendes) also performs vocals. The music video for this track was directed by up-and-coming director, Rahi Patel, who lends his unique visual style to create a modern remake on traditional Indian folklore.