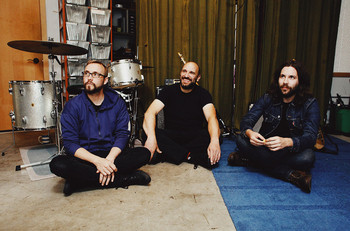 In August 2016, during what he now recognizes as his lowest point, David Bazan was touring the country alone in an aging minivan and found himself in his hometown of Phoenix, AZ. In need of a break from the road, he spent a night off at his grandparents' house. Before leaving town the next morning, Bazan gave himself the gift of a quick detour past the house he grew up in, and experienced a breakthrough – one that would lead him both forward and back to another home he had built many years before.
Bazan recorded and arranged all of the skeletal accompaniments for his obsessively introspective lyrics and spare melodies for Pedro The Lion. Each player would then learn their parts and, together as a band, they brought the skeleton to life. While bandmates played on a few recordings, Bazan often played all or most of the instruments himself.
By 2002, after recording Control, the high rate of turnover in the band finally caused Bazan to ditch his "natural process" in favor of a collaborative writing process. When this move did nothing to stabilize turnover, Bazan was perplexed. In November 2005, Bazan decided to stop doing Pedro the Lion altogether. For the next decade Pedro the Lion felt off limits, even forgotten, like a childhood home Bazan had moved out of.
"I had abandoned my natural way of working in the hopes of creating space for a consistent band to write with…and it hadn't worked. So I got a rehearsal space and really leaned into my original process again. Before long I realized it also felt like Pedro the Lion."