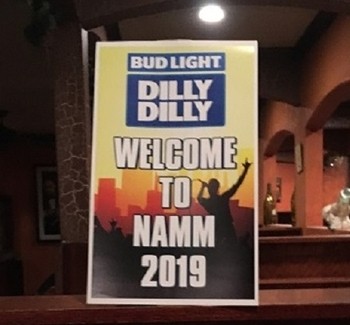 The National Association of Music Merchants show presented 400 educational sessions, and included 115,301 industry professionals. What's great is that everyone always has opportunities for a meet and greet, booth performance, concert, or just running into one of the artists on hand. A small sampling of the artists include Elle, Harry Shearer (as Spinal Tap's Derek Smalls), Tiffany, Billy Gibbons, John Mayer, Carlos Santana, Sinbad, Jeff Carlin, Peter Frampton, Eric Gales, Darryl Jones, Steve Vai, Sweet, Alan Parsons, Robbie Kreiger, Vivian Campbell, Phil Collen, Jimmy Vivino, Bob Weir, Ed Sheeran, Eddie Trunk, Nancy Wilson, Duff McKagan, and Michael Anthony.
Some of the concert highlights were Gibson's grand re-entry into NAMM with the NAMM Jam featuring Billy Gibbons, Nancy Wilson, Peter Frampton, and up and coming artists. The RCF Ultimate Jam Night featured Steve Vai, Tiffany, The Sweet, and a bunch of metal collaborations. The duo Black Violin performed and the Yamaha All-Star Concert featured Jon McLaughlin, Loren Allred, Jonathan Butler, Sarah McLachlan, and James "J.T." Taylor. Among the many award ceremonies, Heart's Nancy Wilson was given the Music for Life award, and Peter Frampton received the TEC Awards Les Paul Innovation Award. Harry Shearer (as Spinal Tap's Derek Smalls) judged the "Bass Off" competition in coordination with the John Lennon Educational Tour Bus. Among the other awards, there was the annual She Rocks Awards for female performers, and the Parnelli Awards for industry professionals. William Close played the largest playable harp ever, The Earth Harp, with strings running from the balcony of the ACC North building to the Plaza.
NOTE: As always, check out their websites and the actual products at your local retailer.
GUITARS/AMPS
PAUL REED SMITH – PRS continues to blaze their own trail with the additions of the McCarty 594 Hollowbody II, the CE24 semi-hollow body, the King Crimson 50th Anniversary Schizoid guitar, the SE Santana Singlecut Trem with TCI "S" pickups, and the SE Paul's Guitar with the TCI "S" treble and bass pickups and two-mini toggle switches. Their amp line has expanded with the Archon and Sonzera series, adding to the John Mayer J-Mod 100, David Grissom DG Custom 30, and the Mark Tremonti MT-15.
GIBSON – New CEO J.C. Curleigh has started making things happen by getting back to their roots and original specs with Les Paul Standards with 50's (that won "Best Electric Guitar of NAMM") and 60's specs (one with P90's), an LP Special in TV yellow, a Jr. in tobacco burst, and an SG Standard with "maestro" and "sideways" Vibrolas. New artist models are the Chuck Berry ES-350T designed with Chuck's family, and the limited-edition Chris Cornell Tribute Model ES-335 edition featuring aged Lollartron humbuckers, clear "no number" top hat knobs, olive drab satin finish, and mother-of-pearl Chris Cornell signature peghead.
D'ANGELICO – New offerings are the Premier and Excel hollowbodies, the Excel acoustics, the Premier and Deluxe Atlantic, Premier and Deluxe Brighton, and Bob Weir Bedford solid bodies. Many variations that play great with nice color variety and appointments.
JONES MUSICAL INSTRUMENTS – Stones bassist Darryl Jones has a line of 50's-60's vibe P&J style basses, and Tele and Strat style guitars that can be custom ordered to your specs.
FENDER – Fender has a great assortment of one-off custom shop Tele and Strat variations. They also announced the new Acoustasonic Telecaster, the Duff McKagan P-Bass, the Jimmy Page Telecaster and Mirror Telecaster, and the 62 Princeton Chris Stapleton amp edition.
PERCUSSION
WFL III DRUMS- Bill Ludwig III has followed family tradition with a new snare and drum line built on the standards of the classics.
INNOVATIVE PERCUSSION – They have sticks and brushes for everything percussion with numerous tip choices, in hickory, maple, heartwood, or hybrid varieties. They have the Vintage, Innovation, Legacy, and Signature series to select from.
AERODRUMS – This is a virtual reality kit that exists through your eyewear and headphones. Quiet, and invisible to everyone but you!
OTHER NEAT THINGS
SEYMOUR DUNCAN – The leader in the pickup arena continues to impress players by their products, expertise in pickup selection, and online videos. They offer humbuckers and single coils that basically duplicate all of the classic recorded sounds on your axe.
PHILIPPE BOSSET STRINGS – The Paris company is making world class, classic strings for virtually any instrument. They also provide Skull brand guitar strings for Rock & Roll available in every gauge, and can custom make artist strings and even package them with provided band or artist photos or art work. Talk about a merch opportunity!
STRUNG JEWELRY – The bracelets are made from sets of guitar strings and designed and labeled for song titles. They actually get some of the strings after being played by artists, and provide a COA.
SIT STRINGS – Their new CRT coated electric strings are corrosion resistant. They offer various versions of guitar/bass strings including the Dave Ellefson series in 4&5 string in long scale and extra long scale.
CURTIS NOVAK PICKUPS – They make retro pickups for virtually all of the classic rock guitars including replacements for lipstick, DeArmond, mini-humbuckers, T-Bird, Firebird, and the old dog-eared P90's.
AUDIO TECHNICA – The 3000 series features high fidelity wireless with six interchangeable mic capsules. They now also offer four mic packs at very reasonable prices for streaming/podcasting, that include the mic, boom, and headphones.
TUBE AMP DOCTOR – TAD has power and pre-amp tubes for all of the classic amps, reverb cans, caps. They also offer an interesting series of classic amp-kits.
PALMER – They make a neat Acoustic Pocket Amp which is a portable pre-amp for acoustic guitars with all of the dials for fine tuning. This is also available for electric and bass guitars.
http://www.thenewamericanmedia.com/
https://www.youtube.com/TheNewAmericanMedia
By Bob Engelman