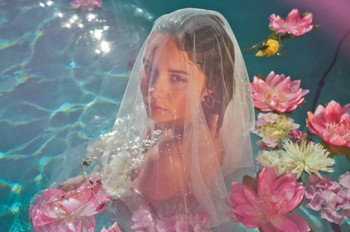 The eagerly awaited second album from Scottish singer-songwriter Nina Nesbitt has arrived, 'The Sun Will Come Up, The Seasons Will Change' is out today through Cooking Vinyl. Having obtained over 160 million streams between singles since signing her new deal with Cooking Vinyl and peaking at over 10 million monthly Spotify listeners, the new album shows Nina at her lyrical and musical best.
Today, Nina also shares the incredible beautifully shot video for her new single – the song which was put on hold for Rihanna – 'Is It Really Me You're Missing?'. Directed by Debbie Scanlon and filmed in frozen Eidsvoll, Norway, the video is Nina's best yet, telling the dark fairytale of a woman who waits for a man who never comes. When she realises that she could be anyone to him, she cuts off her long hair and is reborn as the Pink Lotus.
Fresh off a 24-date tour with Lewis Capaldi and with current single 'Colder' sitting on both Radio 1 and Radio 2 playlists – Nina Nesbitt also recently announced a headline tour for April 2019 – kicking off on 8th April in Bristol and concluding at the Islington Assembly Hall in London on 17th April 2019.