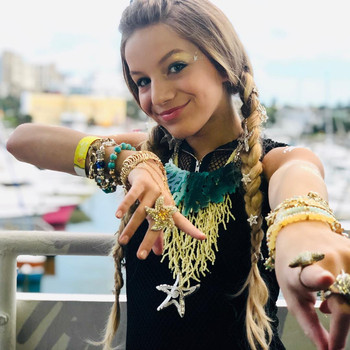 In the age of iPhones, social media and ever-growing technology it can be easy to forget the immense power of a young child's own imagination. But building a magical world of her own creation doesn't seem to be much of a problem for singer/songwriter Penelope Robin, who's lyrics bring these feelings to light in her latest single and music video "Some Girls".
In the powerful piano-driven balad, Robin's passionate lyrics show the true power of a child's innocence coupled with their creative spirit. She sings "I do it all in my imagination // I've got a castle in the clouds, and the prince will save me somehow // but it's all in my imagination" with a bold confidence that can often make listeners forget how young she truly is. But she's able to pull it back to her wonder of it all in a testament to her youthful creativity – "Somebody told me there's a big world out there and I'm ready to show it, I already know you could still make something from nothing, just close your eyes".
Straight from Miami, FL – Penelope Robin began acting at age 5 and since then has developed a true passion for the arts. Most recently she stole the hearts of young Colombian fans when was invited to share the stage with acclaimed Colombian singer Karol G, as well as Puerto Rican singers Yandel, and Cosculluela during the CEG Festival 2017 that took place in Colombia. Penelope's single's such as "Little Bitty Heart", "Lollipops", and "LIT" are loved by all ages with her most recent single "Sigo Soñando" hitting over 4 million views on YouTube. Currently she is recording the rest of her album which will be released in 2019.