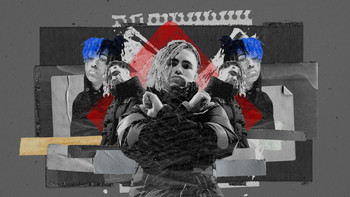 After breaking the internet- and Warner Bros. Records' record for biggest lyric/visualizer video debut ever on YouTube with over 5 million views in 24 hours and 12.8 million global views within the first two days, Lil Pump & XXXTentacion wrap their talents around another hit with the release of the brand new James Larese-directed video for "Arms Around You" featuring Maluma and Swae Lee [Tha Lights Global/Warner Bros. Records]. Watch the video here.
The music video's jubilant tone represents a celebration of life, and pays tribute to this generation's most iconic musical artist, XXXTentacion. In a unique blend of high-definition visuals and black & white illustrations, the video's modest nature — illustrated by James Larese — is unparalleled.
"Arms Around You" brings together four of music's most recognizable voices on one massive anthem with international implications. Weaving between Latin, alternative, hip-hop and pop influences, it culminates on an unforgettable chant. Produced by Mally Mall, Skrillex and JonFX, the stratospheric success of the Latin flavored collaboration crashed the Billboard Hot 100 at #28 and racked up over 100 million total global streams in just two weeks.