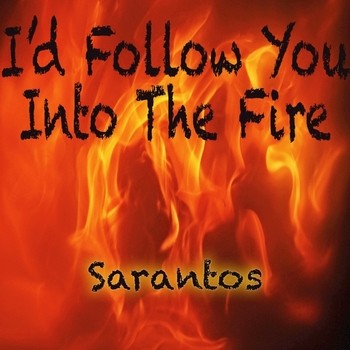 Sarantos taps into the sound of the world with the majestic, sprawling scope of the brightly colored arrangements of "I'd Follow You Into Fire". Deftly avoiding easy categorization, elements of the track draw from rock as well as world music in a way that gives it a great nimbleness. Full of optimism the joyfulness of the track becomes readily apparent quite quickly, as Sarantos lets his voice take front and center stage in a dazzling display. Everything comes together in a kaleidoscopic array, from the beautiful strings to the way that the groove evolves in a naturalistic fashion.
The song begins with a hushed sort of awe. At first seemingly veering into a western sort of twang, Sarantos makes a left turn creating a piece that seemingly bursts with energy. With a great ear for melody the entire piece burns with such tremendous tenderness. Over the course of the piece the attention to detail feels profound, as Sarantos combines eastern and western influences in a way that feels so satisfying. By far though the true soul comes from the careful lyricism that tales the tale of true togetherness. Quite beautiful everything about it positively teems with life, as Sarantos has an expert touch in letting things build up into a big beautiful conclusion, one that absolutely sweeps everything else away.
Full of wonder of the world, Sarantos crafts a compelling world with the fire and passion of "I'd Follow You Into Fire" a song of pure devotion.