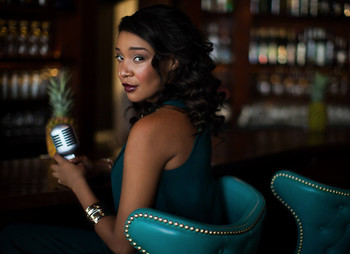 Born and raised in Los Angeles, California, Sydney Ranee' has always had a passion for music. Influenced heavily by artists such as Chaka Khan, Jamiroquai, Amy Winehouse and Prince. Sydney studied music at performing arts schools in Los Angeles and Seattle. She received her Bachelors Degree in Music from Cornish College of the Arts.Sydney is a powerhouse vocalist that brings a sassy presence to the stage and has rocked stages throughout the U.S., Singapore, and Italy.
https://www.facebook.com/SydRanee/
Sydney Ranee's sound has been described as a unique blend of soul, jazz and funk music. Her voice and its originality has earned her the name "The Sultry Songstress".Sydney Ranee' is also a songwriter and has been praised in music blogs such as Impose Magazine, Her Hip Hop, The Singers Room and The Spotlight. Sydney has performed with multiple bands throughout the world and has worked on the Holland America and Seabourn Cruise lines. She has proven herself to be a key player in the LA music scene playing throughout the city in a a variety of venues, such as Perch, The Boardroom and Sassafras Saloon.
In 2015 Sydney Ranee' debuted her first EP entitled "Born to Run." The EP was widely celebrated locally and internationally. After "Born to Run," Sydney Ranee' began producing her second EP. In this project, she expanded her songwriting and debuted her second EP in 2016 entitled " You Could." The Three song EP received radio airplay in the U.S and in the U.K. placing Sydney Ranee' as a top contender in the Soul and R&B community.