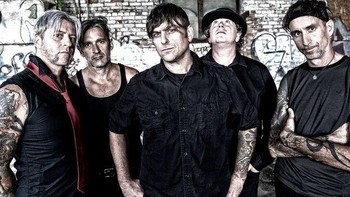 1990s underground metal legends The Clay People make a colossus return with a new album – out this week!
Highly-acclaimed alt-metal/heavy rock band The Clay People, who have taken many forms over the years experimenting with many styles and sounds, are back with the much-anticipated release of their new album Demon Hero and Other Extraordinary Phantasmagoric Anomalies & Fables on September 28.
Featuring 11 new songs, including "Colossus", which is finally being released accompanied by visuals that can be seen below:
Lead Singer Dan Neet describes the new album as "capturing us at a creative peak that was forged from what was, at times, a tenuous, cathartic and finally unifying recording process that reinvigorated and focused the band."
The riveting new release exposes lead singer Neet's battles with depression, mania, fear, paranoia and addiction through his baritone bello and is backed by Guitarist Brian McGarvey's' slithering calculated leads and Drummer Dan Dinsmore's high BPM thunder. The record captures the band at its best, navigating what Neet has previously described as "finding common ground" between electronic acts like The Chemical Brothers and the dark bravado of bands like Tool. Never afraid to take on controversial issues, Demon Hero calls out the corrupting influence of modern politics, the silver tongue of the modern demagogue, the ills of groupthink and the band's experience with the music industry.