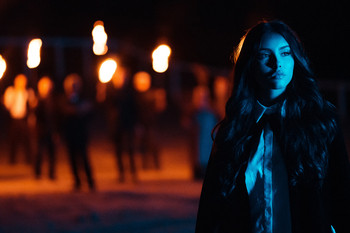 As her current single "Hurts Like Hell" continues to be added to radio stations across the country, independent pop singer-songwriter Madison Beer has unveiled the accompanying music video featuring Offset today.
Working alongside director Mike Harris, Beer executive produced and co-wrote the creative for the video, which was shot in Simi Valley. The video makes it clear that she is in control and has never been more confident as an artist.
"I had such a clear vision of what I wanted to do for this video and it was such a rewarding experience working alongside Mike Harris and having him help take my ideas and make them a reality, far surpassing what I had expected. I'm so grateful for his brilliance and professionalism as a director and could not be happier with how the video turned out. I was inspired by witchcraft and felt that it perfectly fit with the theme of the song, which is about teaching someone a lesson. I'm so happy Offset was involved in this project and was able to bring such an incredible energy to the video."
Described by Complex Magazine as "Madison's biggest track to date," "Hurts Like Hell" was released last Friday and has already been added to countless playlists across streaming providers.