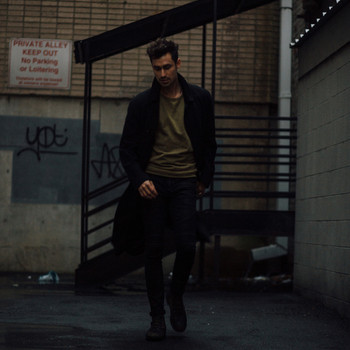 The weather has turned, the leaves are falling, there's chill in the breeze – here in the Northeast, the warm months are, regrettably behind us. But there's a place not too far away where it's always summer: the Yucatan Peninsula. That's where Nashville pop singer-songwriter C. SHIROCK has taken us in his debut video for "Confess Your Love", a three-minute burst of June sunshine. Along with video director Joey Ciccoline [We Were Pirates, Anchor & Braille], he's decamped to a small colonial town outside of Tulum. There, he chases a local beauty through the stately Mexican streets, featuring the stunning Mexican model and actress, Nohemí Hermosillo. Is it the tropical vacation of his dreams, or is it only his fevered, sun-struck fantasies?
C. Shirock's music is expansive, kinetic, effortlessly melodic, with choruses that burst like a summer storm. In his career, he's shared stages with Manchester Orchestra, Cage The Elephant, and Twenty One Pilots – all acts that share his taste for drama and sonic grandeur – and his music has been licensed for use on MTV, NBC, ABC, and other television networks. With SHIROCK, his former band, he played incendiary pop-rock; on his own, he's been chasing something altogether slinkier and sexier, and suitable for dancefloors.
"Confess Your Love" epitomizes his new approach. Echoes of his influences are apparent: George Michael, Peter Gabriel, Prince. But his voice is so distinctive, and so personal, that you'll never mistake the song for anything but a C. Shirock original. The track is driven by its driving pop rhythms and layered by its glossy synthesizers, but its true mark of distinction is Shirock's impassioned vocals and his confessional storytelling. This is a tale of love in its earliest, most fragile state, and Shirock makes that instability, and that excitement, palpable for the listener.