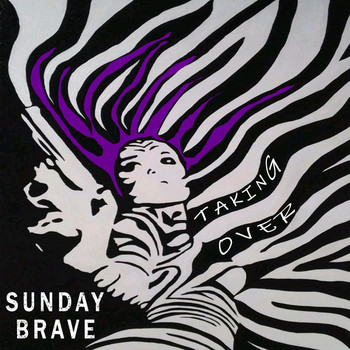 There is total magic in the ocean…Blissful peace, moody movement, and waves of fun…Some of the best oceanfront properties lie alone Atlantic City, New Jersey, one of the wonders of the great United States of America. Walking up the boardwalk in Atlantic City, the lights, the hustle and bustle, and the sound of laughter fill the air. Even greater is the fact that the great State of New Jersey houses some of the most eclectic musicians to touch the surface of Rock music and it starts with the newest heatwave of rock from the band, Sunday Brave, with their irresistible new single 'Taking Over' and they really are taking over!
Who is Sunday Brave? Hailing from New Jersey, Sunday Brave consists of Lead Vocalist KC Gonzalez, Lead Guitarist Marcelo Buby, Bassist JR, and Drummer John Warner. These talented guys are taking rock music to the next levels! At first listen, there are definitive sounds from classic rock, but the vocals of KC Gonzalez combines Lenny Kravitz, Paul Rodgers of Bad Company, and Sting into ONE voice! Incredible control and power are highlights of the band, but the overall sound of the band is a unique blend of Ike Turner, Jimi Hendrix, Muddy Waters, and Led Zeppelin and all combined are great artists, but Sunday Brave have definitely got something great that works and works well!
Digging into the latest single, 'Taking Over,' here is the overall description: Here, a person sings out in total control and simply put, 'They're taking over!" A clear message to the person that is not living up to the needs and desires of someone else, guess what? 'Do you think I need you? What a waste of my time…Just thinking out loud…."–direct lyrics from this song that cries out that the night is all that they need! Clearly, love isn't what is needed at this point! But what is definitely understood is that this rock song rocks even harder with those incredible roaring solos and heavy sound! The production of this song is spot on with everything that true rock depends upon!
In a world that is desperately needing creativity, Sunday Brave are braver than most by being innovative and stepping up to the plate to deliver music that rocks! What is better than great music and great vocals? Nothing! Sunday Brave is currently playing in the New Jersey area and it would be beneficial to catch them live! With how great they sound on 'Taking Over,' it shows just how amazing they will rock the stage live! Catch them while you can because they are definitely Taking Over! This song comes highly recommended! Give them a listen!
Sunday Brave "Taking Over" EP Release Show
Sunday November 18th
@ QXT's http://qxtsnightclub.com/
(248 Mulberry St, Newark, NJ)
21+ $15 advance, $20 door
doors @ 7pm
with Randy Haze Trio and Our Fears
plus special guest MC and performance by Constantine Maroulis (from
American Idol and Rock of Ages)
Rating 10 / 10
K. Tibbs