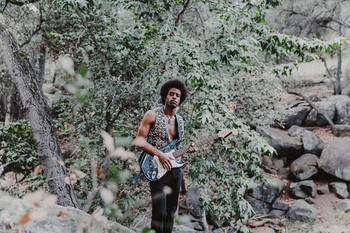 Jonny Dee isn't your typical rapper. The San Diego-based songwriter's early releases were influenced by rap superstars like 50 Cent, but in the years since, something has changed. He discovered a love for artists like David Bowie, Jimi Hendrix, the Beatles, Prince, Marvin Gaye, and Michael Jackson and an interest in spirituality and peace. Wanting to create sounds himself using instruments, he picked up a guitar for the first time in years, and his new style of "psychedelic hip-hop" was born.
With his newly minted album, The Human Experience (released this spring), Jonny Dee paints himself as "the new savior of rock n roll" (Sonic News), blending elements of funk, jazz, psychedelia, and soul with a rap sound and the heart of a rocker. After recording demos in his La Jolla apartment, he teamed up with engineer Sean Powers to re-record and mix the album. In a recent interview he told Music OT Future that the album "is all about self-realization and self-love", and hopes that the album will be "a guide to find freedom from the 'everyday struggles' of our world."
Now, Jonny Dee has shared his latest video for "The Man Who Fell From The Sky", announcing to the world that when it comes to his art, he takes everything seriously…. except himself! "The Man Who Fell From The Sky" is an upbeat and funky track about finding joy and excitement in your surrounding world after spending time away in solitude. The clip opens with an overhead shot of a bizarrely colored forest, revealing Jonny lying on the ground in a head-to-toe bodysuit, a guitar laid across him and crystals in his hand. Throughout the video, as he navigates the forest, a grocery store, and a laundromat, he uses crystals to invoke change and inspire positivity around him. Finally, the clip ends with him in his truest element: on stage at a show, crystals in the hands of everyone in the audience.