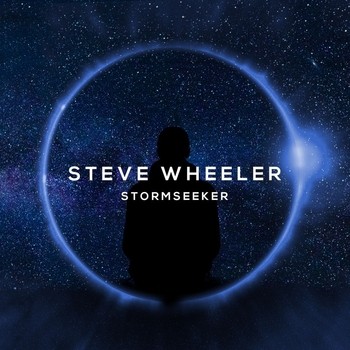 Steve Wheeler embraces a cinematic flourish on the gargantuan sound of "Stormseeker". Epic in scope and absolutely soaring into the heavens, Steve Wheeler proves to have an uncanny hear for melody. The works work together in a grand tapestry of sound ensuring that not a moment is wasted. A wide plethora of genres comes into the mix ranging from classical to jungle to EDM to house. With such a perfect balance of approaches Steve Wheeler incorporates so many surprises inside of the dense mix. Layer upon layer comes into the fray resulting in a virtual funhouse sort of style.
Nicely setting the tone is the intensity of the opener and title track "Stormseeker". From the choir to the soaring strings, all of it works wonders in crafting a gorgeous lovely sound. Various surprises abound from the chaotic saxophone work to the hyperkinetic rhythms. Going for a pastoral take is the soothing folk musings of "Seas Of Blood" which at times has an almost Celtic quality to it. A pure rush bursts forth on the chaotic eeriness of "Destroyer Of Worlds". Utilizing carefully selected textures is the nimbleness of "By The Fire". Beats have a tremendous physicality on "Unearthly Mover". Serenity reigns supreme on the blissful otherworldly quality of "The Call Of The Gallows". Easily the highlight comes with the sprawling, sweeping finale of "Until The Light Leaves Their Eyes".
https://distrokid.com/hyperfollow/stevewheeler/e7EV
Done with the utmost of care, Steve Wheeler delves into an otherworldly tact with the satisfyingly rich "Stormseeker".