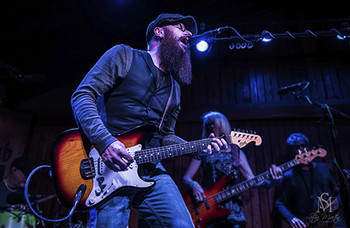 JOHN GAAR was born to carry on Southern musical tradition. He's got the voice: part grit, part steam, and all soul. He's got the backstory: he's played funky zydeco in his native Louisiana, and smoking country blues rock in his adopted hometown of Austin, Texas. He's got the brashness. And as you'll see when you play the highly entertaining clip for "ROLL LIKE THAT", his latest single, he's certainly got the beard.
Yes, Gaar looks the part, just like he sounds the part. He's one hundred per cent authentic – a fire-breathing, soul-shouting, hard-rocking true believer. He's the kind of guy who'll wear his Ernie Ball cap unironically; he lives and breathes music, and he's proud to print his name on his guitar pick, just like his heroes did. Everything in his clip is vintage, and characteristic of American Southern music: the cars, the t-shirts, the guitars, the roadside shacks. This is Gaar's home, and he's welcoming you in with a smile.
Site – http://johngaar.com/
It might, however, not be the version of Central Texas that you know. Gaar and his buddies are taking their cherry-red antique Buick far from Austin's famous Sixth St. strip. They're crossing open fields and heading for a genuine Texas institution. The "Roll Like That" clip is shot, in part, at Riley's, a legendary rural Austin area tavern that has been serving drinks and hosting music for generations. Riley's was the first bar in Texas to sell alcohol after the repeal of prohibition (the building has been standing quite a bit longer than that!) and the party has been going strong ever since. It's exactly the sort of place where a patron might expect to encounter a guy like Gaar, guitar in hand, ready to roar.
And because one Southern rock hotspot is never enough, John Gaar shows you another. The concert footage in the "Roll Like That" clip was captured at the Saxon Pub in South Austin, a thirty-year-old club with a classic look and a dedicated clientele that knows great music. Gaar is a regular at the Saxon and knows its old contours well, and in the video, he fills out the stage with guitarists, percussionists, backing vocalists, and a full horn section. They're having a blast – as is the crowd! – in that specific way that artists and fans do when they're making the music they love in the place they'd never, ever want to leave.