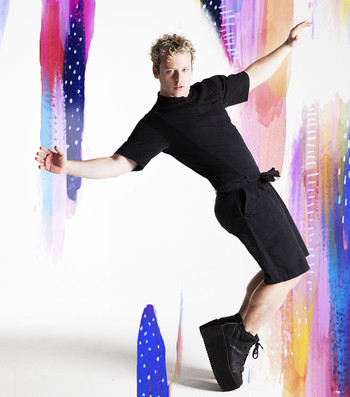 Ryan Whitman is a Philly native and NYC-based singer/dancer who hits all the right notes and has all the right moves when it comes to melodies & music.  With Pop, Dance and R&B ingredients all bursting with flavor, Ryan Whitman is cooking up a Sound Storm.  Whitman's latest release titled 'Body Heat' is the perfect temperature as it warms your soul up with bright 'n' sunny hooks & beats.  So, if you can't take the 'Body Heat' then get out of Ryan Whitman's musical kitchen!
J Rae: I read in your Bio that you were attracted to Jazz, Soul and R&B at a very early age.  What was it about these particular genres of music that drew you in as a kid?  And what keeps the drive & spark going today when it comes to incorporating these elements into your own music?
Ryan Whitman:  You know what they say, it don't mean a thing if it ain't got that swing, right? I've always loved the way Jazz, Soul, and R&B flow through the body with so much emotion. As a child, I was taken in by the riffs and powerhouse vocalists that have come before me. I always say I learned to sing from Whitney, Janet, Brandy, Mariah, Prince, Luther, Anita, everyone. When writing my own music today, I'm really driven by the want to bring people music to enjoy like the artists I've listed have done for me! When listening to my music you can definitely hear a riff that reminds you of a Brandy moment or Toni Braxton moment; they just live within me.
J Rae: Can you name some of your favorite artists in the areas of: Jazz, Soul and R&B?  And why do they have such a big impact on you personally and your music?
Ryan Whitman:  Oh gosh, it's a very long list! A few favorites are Aretha, Sarah Vaughn, Art Tatum, Ella Fitzgerald, Erykah Badu, Sade, Whitney Houston, Janet Jackson, Prince, Toni Braxton, Anita Baker. It's hard to put into words how they've impacted me personally; really many of them taught me about feeling and shook me to my core. I had never been heartbroken at 6, but hearing Toni Braxton's "How Could An Angel Break My Heart" you can't help but feel something. With my music I want to bring those same feelings to people.
J Rae: You have a new EP out titled 'Body Heat' and so I have to ask; are people going to need a cool down after listening to 'Body Heat'?  Do we need fans, water or AC?  🙂
Ryan Whitman:  Grab all three just to be set! 'Body Heat' definitely calls for a cool down period! I wanted to create a piece of work that combined feeling with some good, grooving dance.
J Rae:  Can you tell the Skope Universe more about this exciting new release that's heating up and keepin' the spirit of the summer alive?
Ryan Whitman:  'Body Heat', as an EP, is a collection of songs exploring the complexities of relationships, self-assurance, and self-acceptance. I wanted a piece that made people feel sexy and empowered and to make them want to groove, and I think this EP has really accomplished that!
J Rae: I also read in your Bio that you enjoy dancing as well, particularly hip-hop, and I know the Skope readers would love to step up and know more about this toe-tapping aspect of your life?
Ryan Whitman:  My parents wanted to put me in dance classes as a child and I said no, big mistake! Come high-school, I couldn't stop dancing. I started doing the school musicals, and a big part of it was the dancing.  I enjoyed the jazz and lyrical elements, but liked doing the dances I saw more in music videos. I started taking hip-hop classes and have been dancing ever since.
J Rae: I saw that you grew up near Philadelphia but now in Manhattan; why the move? 
Ryan Whitman: I did! I miss Pennsylvania all the time. I moved to Manhattan for a job in the music industry and to explore everything NYC has to offer. Both PA and Manhattan have inspired my music a lot.
I love visiting home, and can't wait to be back in the area to perform at the Birdhouse in Lambertville NJ on October 20th!
J Rae: What are some of your favorite things to do back home and in NYC?  And being that I'm a former New Yorker myself, let's settle this once and for all; where is the best pizza joint? GO!  
Ryan Whitman:  My favorite things are pretty similar in both places! I love the art museums, going to interesting restaurants and cafes with friends, exploring the neighbors. The main difference for me between the two is Doylestown is much quieter and I can go hiking, paddle boarding, all the outdoor things I love, where as New York is louder, everything is open all the time, and there's always something going on that you can only experience here. As for pizza, I'm partially fond of Fiores on Bleeker and Vinnie's in Williamsburg, did I answer that right?!
J Rae: What's your opinion on the mainstream music scene today and how can Today's artists help redefine and reinvent the landscape?
Ryan Whitman:  I think really it comes down to mainstream music is money and where you land always depends on how much you can invest to get yourself out there. We see the landscape changing every day; though with more and more artists being able to do this on their own. I think the best way for artists to redefine and reinvent the landscape is to support each other.  Music isn't a competition but a community, and at the end of the day we all want to share joy through music.
J Rae: How has the response been so far to your new EP and what are your plans moving forward to help promote 'Body Heat'? 
Ryan Whitman: I've been so overwhelmed by the response!  I really appreciate everyone's support who have listened to the music and continue to listen! From here, the main thing is shows. I love performing live and I want to perform for all of you! There are some other things on the back-burner, but that's for another time.   ;)
J Rae: Can you leave us with some helpful advice and motivational words on how we can become a better and stronger society?
Ryan Whitman:  Love yourself and love each other. We only have one life to live so live it to make yourself happy, not based on the guidelines you think are in place by society. Lastly, don't waste your time judging other people's decisions, you ain't Judy so stop judgin'!
http://www.theryanwhitman.com/
By Jimmy Rae (jrae2@att.net)