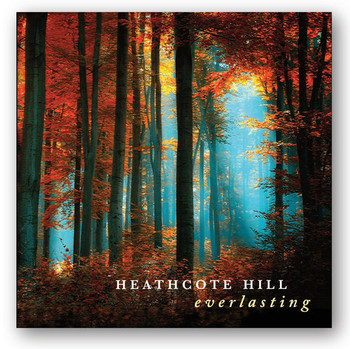 Another weekend is upon us, perfect timing. We are excited to let musical duo, Heathcote Hill have their music showcased here @skopemag. They are also here to let you all know to buy or stream their new album 'Everlasting.' "Everlasting" was written and produced by guitarist Tom Nelson, and features 8 original songs, plus a cover of Crowded House's "Don't Dream It's Over." They have truly collabed with industry heavy hitters on this album, so lets press – play!
@skopemag: Where are we talking from today and are you excited for fall?
TOM: I am sitting in my Muskoka chair on Heathcote Hill in Mamaroneck New York. Fall is such a beautiful season here.
MEGAN: I live next town over, in New Rochelle. I just put the kids to bed.
@skopemag: How did Heathcote Hill come to be and how did you decide on the name?
TOM: Three years ago, I asked my friends to help me record some songs I'd written. And we named it Heathcote Hill because somebody once said "People can argue with you about a lot of things, but not where you're from."
@skopemag: How much did music play into family life growing up?
MEGAN: Singing has been part of who I am since I was 6 years old. My sisters and I started in church choir, and Laurie, Kerry, and I have sung
at every family wedding, christening, and funeral since. I didn't join a rock band until after Ella was born!
TOM: I'm the oldest of five boys and we all made noise. I had the first synthesizer in the family.
@skopemag: At what stage did you gain the confidence to pursue a career in music?
MEGAN: Ha! We all still have spouses and kids and careers and commitments. We are only recording artists in our spare time. Of which there is not much!
@skopemag: Your new record is here, 'Everlasting.' How long were you working on that and how has response been so far?
TOM: Our drummer Tory Ridder observed Everlasting was how long it took. It was way harder than our first record Reinforcements because we wanted to make everything better.
MEGAN: But people are saying that's it's big step forward. Tom's writing is stronger, more positive.
TOM: And we spent more time in the studio, so Megan could really be happy with her performances. And working with Tim Hatfield at CTS Studios in Brooklyn
really made everything better.
@skopemag: When you put so much into this project do you get anxiety regarding reviews & press?
TOM: This is all so new to us. We don't even know what genre we are. It's just amazing to have anybody listening to our music — and a big thrill.
@skopemag: Can we expect a music video to help promote and what would be the song & vision?
MEGAN: It needs to be done. We made a nice cheap 'n cheerful video for "Let's Waste Another Year." But honestly, getting us into the studio is so difficult,
I tremble at the thought of getting everybody into make-up.
TOM: We can't do everything. We really have to choose our priorities, and everything has to be scheduled way in advance. I tear my hair!
@skopemag: These days are all about streaming. Do you expect to sell many physical copies and if so how?
TOM: Our coffee shop, Sunshine Coffee Roasters, just sold two CDs. The 12-page lyric booklet is quite sharp.
@skopemag: When you are not making music what else do you enjoy?
MEGAN: I enjoy taking the kids to the beach and Yankee games, cooking, and hanging with my extended family! And I just went back to work full-time.
TOM: I'm building a home studio under the garage, and am learning to use my new Nikon camera. And I'm a cook, too.
@skopemag: What is coming up for Heathcote Hill and where you @ online?
MEGAN: We're headed back in the studio in November to record more new songs. That's exciting.
TOM: And we've got a really talented band with Tory on drums, Mike Bishop on keys, and Akil James on bass.
We've played some great NYC clubs like The Bitter End, Rockwood Music Hall, and Bowery Electric.
MEGAN: Follow our story at heathcotehill.net. No one's more curious what happens next than us!