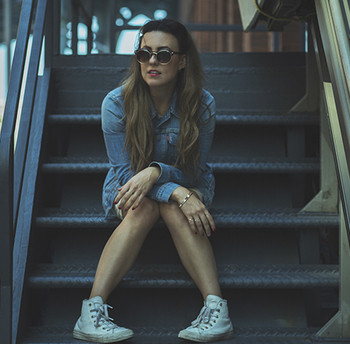 Melanie Taylor is a Los Angeles based singer-songwriter whose time has come to leap off the page into the limelight. This distinguished alt-pop performer mixes electro-pop elements into her 90s influenced style, creating a world of her own. Gaining inspiration from the late and great Michael Jackson, she's living proof that the best thing you can ever be in life, is yourself. Her unique approach to songwriting opens a portal of authenticity that listeners gravitate towards through her intoxicating ideas.
http://instagram.com/melanietaylormusic
Melanie Taylor's roots are grounded in San Diego, CA. She was an only child raised by a single working mother, which meant a lot of daycare and time left to entertain herself. Melanie found solace in classic pop records like Mariah Carey and Alanis Morissette, which guided her in the right direction by giving her a vision of her untapped potential. Childhood was lonely at times, but once she was introduced to theater, she found belonging in her theater families. Even now, she treats her audience like brothers and sisters, morphing the stage into her true home. She strives to consistently break out of her shell, opening herself up to vulnerability by allowing self-reflection and acceptance. Melanie began her artist development in 2012 with her debut record All About Today, which was later followed by her self-titled album in 2016. She most recently put her pen back onto paper with her 2018 singles "Ink" and "Adderall," as she comes to terms with a need for commitment (in "Ink") and a need for release (in "Adderall").